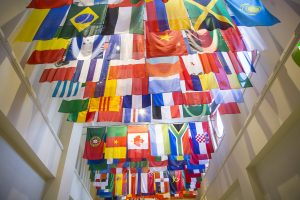 Fulbright students Maryam Ali and Hanae Hmimid decided to cross oceans to pursue their master's degrees at the University of Central Florida.
The Fulbright Program is an international educational exchange program which awards about 8,000 grants annually to recent graduates, young professionals, master's and doctoral candidates, as well as college and university faculty to become scholars.
Ali was living in the Kingdom of Bahrain when she found out about the Fulbright program through the US Embassy there.
While making the decision to leave her job and join graduate school so far away was not easy, she decided to take a leap of faith. The outcome was life changing.
"I am forever grateful for this experience," Ali said. "The Fulbright experience has allowed me to have a different perspective of the world – a perspective that is compassionate, respective, acceptive and considerate."
When COVID-19 hit, the future looked uncertain. Ali had to leave the US back in March as requested by her embassy in the US. However, she plans to return for her second year as a MA communication student at the Nicholson School of Communication and Media in Fall 2020.
Ali loves traveling, reading and is passionate about working in the communication field.
Hmimid is also a Fulbright digital media MA student who heard about the opportunity from her friend, Salwa, while living in Morocco. Hmimid was encouraged to apply to the program from her friend while she was a film undergraduate and the decision changed everything for her.
"It has been truly a pivotal point in my life," Hmimid said. "The Fulbright experience allowed me to access so much knowledge and professional experience in the field of digital media. But more importantly, it allowed me to get to know myself better. I feel more confident in who I am as a woman, and as an artist."
Hmimid is currently still in the US, working in an internship with the Office of the Provost and Academic Affairs at UCF. She will continue her studies in the Fall as well.
After graduation, Hmimid plans to return to Morocco to create a startup with friends who are active in the field of Digital Media.
To learn more about the benefits of the Fulbright program, click here.
Published August 3, 2020. Written by Iulia Popescu.
If you have any news, accomplishments or highlights about your work or life, please be sure to share them with us, by emailing us at nicholsonews@ucf.edu.