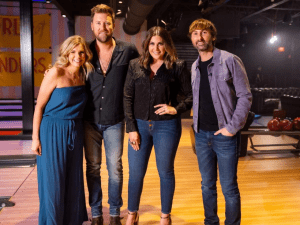 Alumna Lauren Black believes that it is important to follow one's passion and heart.
When she was young, her parents always listened to country music in the car and she became mesmerized by the melodies. One of her first memories of country music was listening to Trisha Yearwood, "She's in Love with the Boy," on the car radio.
"Whenever we were cruising around at town, I remember that song being on the radio," said Black. "And that was probably my first favorite song. My parents also told a story when I was really little, I don't remember this, but they said, there's this Mark Chestnutt song called 'Too Cold at Home,' and in the song, he says 'one or two,' in the lyrics. And I used to put my fingers up because I was learning to count. That's probably some of my earliest memories. I grew up listening to country radio. I even went to Lady A's fan club party, their very first fan club party, during my time at UCF."
So how did Black go from being at a Lady A fan club party to interviewing them? It all started during her time at UCF.
She completed some internships, but none of it felt fitting. She would then watch CMT as well as Great American Country and told friends or family, "That's what I want to be doing. I want to interview country artists on the red carpet."
During her time as a Nicholson undergraduate, Black co-founded a popular blog called "CountryMusicIsLove." Black came up with the name, after a popular Myspace trend of the time, which prompted users to add 'is love' after anything they liked.
"It was really one of the first independently owned country music blog websites that was out there at the time," said Black. "And after a while, I started getting emails from publicists or marketing people from record labels or artist management teams."
Black would do her schoolwork during the day and then every night would go online with her friend to write blog posts – and it just took off from there.
She graduated from UCF on May 2009 with a degree in radio television. Following her graduation, her and her husband, who is also a UCF graduate, were traveling to Nashville often, so they decided to move and plant some roots there.
In 2012, she received a UCF Rising Star award, which she keeps displayed on her desk.
In 2015, she sold "CountryMusicIsLove." She remained editor-in-chief of the rebranded outlet for around two years. She then launched "Country Now," a country music news, content and lifestyle website, in 2019.
Since then, she has received much praise for her work and has been included on Country Aircheck's Women of Influence list, highlighting women in the country music industry who deserve recognition.
While most of her marketing efforts for "Country Now" occurs through Facebook and Instagram, "Country Now's" parent company was approached by the popular live streaming site Twitch, who wanted to incorporate more music creators on the platform.
The "Country Now Live" shows came into creation on Twitch starting March 17, with Black as its host. Their most popular episode accumulated approximately 429,000 viewers.
"The artists perform a live full band concert on Twitch," said Black. "And then after the show, they join me for a Q and A, and then everyone who's watching can submit their questions. Just this past week, we had Gabby Barrett come on, and we had our first actual ticketed live audience, which was also amazing now that things are opening back up. So now we're going to be welcoming fans in, whereas before there were thousands of people watching, but it was all virtual and I couldn't see the fans."
Some of her favorite artists to interview have been Elle King, Dierks Bentley and Dustin Lynch – as well as Lady A, of course.
In August, artists Jon Pardi, Cassadee Pope, King Calaway and Caleb Lee Hutchinson will be joining Black to perform and talk on Twitch. More information about the "Country Now Live" shows can be found here.
Everything airs on the CTRL_Music_  channel exclusively on Twitch.
Photo Credits to David Bradley.
Published August 2, 2021. Written by Iulia Popescu.
If you have any news, accomplishments or highlights about your work or life, please be sure to share them with us, by emailing us at nicholsonews@ucf.edu.