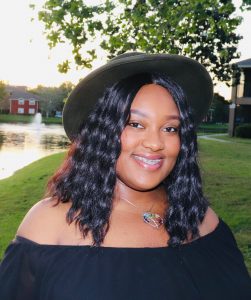 Toni-Ann Burke '17 recently accepted a position as a public relations and communication affairs specialist with CareerSource Center Florida. To students who may not be familiar, CareerSource Central Florida is an establishment that offers free services to assist those attempting to secure their first job out of college.
During her time at UCF, Burke learned to use the university as the great resource that it is to further her growth — personally, academically and professionally. While attending UCF, she made use of her time as a director of communication for Quotes, the PR Club at UCF; second vice president of the Mu lota Chapter of Delta Sigma Theta Sorority Inc.; and director of public relations for the National Association of Black Journalists (NABJ), to name a few of her accomplishments.
"Take advantage of all that UCF has to offer. Some of the resources are publicized and some you may have to seek out yourselves, but everything is available at your fingertips," she said. "Join social and professional clubs, network with staff and students, attend cultural events, run for an e-board position and intern as much as your program allows! Really push yourself to explore different avenues while you're still a student. UCF is a great microcosm of the real world – take advantage of it now."
CareerSource Central Florida is a great tool for students to utilize as they approach their first job out of college. With the assistance of career consultants, individuals can jump start their careers through several free services offered such as job and interview preparation, transportation services, complimentary scholarships, training program placements, job search assistance and learning events.
Burke is now putting her degree to work at CareerSource Central Florida, where some of her personal duties include conducting media outreach via press releases and pitches, coordinating interviews, helping to write and deliver crisis communication plans as needed, and assisting in developing and maintaining relationships with government officials.
"I love my job! I've only been here for about five months, but I love and appreciate that the nature of PR is ever-changing," Burke commented on her experience working PR for CareerSource. "No two days are the same. This is an organization that cares for its people and really works hard to make a sustainable change in the lives of Central Floridians. Seeing the success stories of the individuals and businesses we work for, makes it all worth it."
Burke recently launched her own business, as well – Synergy Scents by Toni – where she sells naturally scented soy candles. She says that practicing meditation and mindfulness along with the use of aromatherapy is what has helped her with her own personal development. Follow her holistic journey on Instagram and Facebook @SynergyScents.
This article was written by Iulia Popescu.