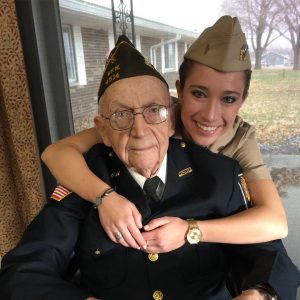 Rachel Petrik's day-to-day will soon be packed with activities like riding in a helicopter to draft a will on a carrier ship as she embarks on her newest journey of being an active duty judge advocate.
Petrik has always been hard-working, consistently taking on several duties at once. Her time at the University of Central Florida (UCF) would comprise her first steppingstone to greatness.
Petrik earned two degrees in legal studies and advertising-public relations before heading off to further her studies in law school after graduating from UCF in 2016.
While attending UCF, Petrik made sure to take advantage of as many of the unique opportunities that the university has to offer, including study abroad programs. Her first study abroad trip was to beautiful Segovia, Spain.
"My experience as an exchange student abroad in Segovia, Spain revealed my love of international travel and cultural diversity," Petrik said. "I will take these experiences and the lessons learned with me to every future duty station. UCF truly made me a better leader, advocate and shipmate. I am proud and forever thankful to be a Knight!"
During Petrik's time in Spain, she became close to Rebecca Morales, director of advising and student services at the Nicholson School, who would soon go on to be one of her mentors.
"Rachel is such a top-notch student," Morales stated about Petrik in a previous article published on Nicholson News. "She's not just book smart. She's great all around. There are few students who leave such lasting impressions. I know wherever she goes she will keep in touch and be a wonderful alumna."
Petrik was off chasing dreams again this previous summer on another study abroad trip to Padua, Italy, taking classes instructed by Supreme Court Justice Neil Gorsuch, and staying near exquisite canals and ancient basilicas. She then returned home in time to make another dream of hers come true.
Inspired by her role model in patriotism and sacrifice, her late grandfather and World War II veteran Raymond "Rocky" Duhn, she became commissioned as an officer in the United States Navy Judge Advocate General (JAG) Corps when she returned to the states, to fulfil her dream of serving her country like her grandfather once had.
Petrik's commissioning enabled her to wear her Navy uniform for the first time and render her very first salute with her proud grandfather in Iowa on Veteran's day, November 11, 2018, which also marked the 100-year anniversary of Armistice Day.
"For the very first time, I rendered my first military salute to my grandfather. Flying to Iowa, I had the priceless opportunity to explain to him that I had joined the U.S. Navy to serve and lead others — as he had," Petrik shared previously about her touching moment, a memory which will be hers to treasure forever, in a self-written article titled "Never Forget."
Petrik recently graduated in May from the Antonin Scalia Law School of George Mason University, and is now currently preparing to take the Iowa Bar in July. She will then start her active duty in August as part of an elite group of only 1,000 Navy JAG officers worldwide. By the end of year, she should be reporting to her first duty station, which she hopes will be in either Pearl Harbor, Hawaii or Bremerton, Washington.
"I am grateful and humbled to have the opportunity to serve my country and represent the very individuals who fight to secure our rights and freedom," Petrik said. "I truly feel as though I have found my purpose in life! This career path combines my passion for travel, cultural diversity, and litigation. To me, representing our Sailors is the highest calling of the law as an attorney, and a calling I am honored to answer."
In memory of Raymond "Rocky" Duhn (1924–2019).
This article was written by Iulia Popescu.