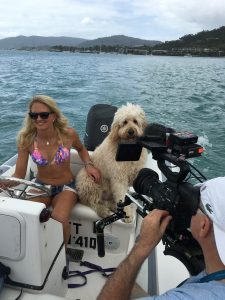 While working as a reporter, former Nicholson School and Communication and Media student Hailey Winslow decided to take a chance and follow her heart. Winslow's plan from the beginning was to become an actor as well as a TV news anchor but she soon acknowledged she needed something more. Winslow is now the producer and host of her own TV series "Outback & Under" shot in the Great Barrier Reef in Australia along with her producer's dog, Sadie.
"I took a leap of faith by moving to Australia and ended up realizing that my real dream was to host a show about animals, adventure and travel," Winslow said.
Winslow and Scott Didier, executive producer of the show, created the 12-episode series, where each episode features a different town of Australia. The show is an educational documentary based on Winslow and Sadie's travels, which includes 22 destinations from Hamilton Island to Byron Bay in Australia. They highlight animals and marine life native to that area as well as highlighting the town's hidden gems and top to-dos.
Winslow's journey began once she earned her bachelor's degree in broadcast journalism and a minor in Spanish in 2008. While at UCF, she gained invaluable experience through internships with ESPN, the nationally syndicated morning show The Daily Buzz, the Orlando Predators Arena Football League and Central Florida News 13.
After graduating from UCF, Winslow worked as a news reporter in North Carolina and later at WJXT Channel 4 in Florida. She learned how to write, shoot and edit as well as anchor her own documentaries and segments. At WJTX Channel 4, she anchored and reported on a segment she started called "Winslow's Wild Things." Her segment helped her realize she had another dream, to create her own work independently.
"I loved my career and was grateful for it as well as getting to be a part of such incredible communities," Winslow said, "but I felt my life was flashing by."
Winslow was becoming very successful as a reporter at Channel 4. Her boss offered her the No. 2 sports anchor job, the spot she always wanted. Winslow thought about accepting the offer, but something inside her said that she was destined for something else. Therefore, she decided to buy a one-way ticket to Australia with no plan and no money.
Winslow had learned instrumental skills as a reporter but needed to find a purpose for them.
Until she figured out where her next journey would take her, Winslow took on a job as an ocean kayaking tour guide in Byron Bay, Australia. Six months later, on one of her kayak tours, she met her now executive producer Didier and his family. After conversing that day, they decided to produce a TV show together.
Didier had the idea of making his dog, "Sadie the Goldendoodle," Winslow's co-star for the show. They hired a camera crew and went throughout the Great Barrier Reef on Didier's boat and over the outback to crocodile country. From helicopter rides to boat rides, Winslow and Sadie explored terrain and marine life throughout Australia.
Currently, Winslow is in the process of pitching the series to various TV companies in Los Angeles. Winslow divides her time between Australia and Los Angeles, where she is pursuing an acting and a hosting career. She recently starred in a financial planning commercial, an independent comedy show as well as acting in a few recent commercials.
NSCM associate professor Anthony Major has been very proud of Winslow's accomplishments.
"Few students have crossed my path since I began teaching in 1994 that have affected me like Hailey did," Major said. "I'm so proud of her accomplishments, big and small."
Winslow considers UCF and Associate Professor Major to be the starting point of her career.
"I learned a lot at UCF and from my favorite professor Tony Major. He taught us to 'make love to the camera,' and that 'the interview starts in the parking lot,'" Winslow said. "He also taught us 'how to own the red carpet,' which he actually witnessed me do at the Directors Guild of America Awards in Los Angeles."
It's taken a lot of sacrifice for Winslow to get where she is now, but she wouldn't change a thing about her journey. Winslow wanted more from her life than to be a news reporter; she wanted to exceed any limitations.
"Life does flash by," Winslow said. "I made sure I was doing what made me happy."
"Outback & Under" is not available yet, but the trailer is available at https://youtu.be/FqoCaXBrmx0.