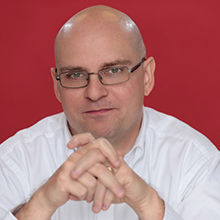 Dan Ward, APR, CPRC, president of Curley & Pynn Public Relations & Marketing Communication, was elected as chair of the University of Central Florida (UCF) Alumni Board of Directors.  His two-year term as chair began July 1, 2018.
The UCF Alumni Board formulates and executes plans, policies and programs to benefit the efforts of UCF Alumni Engagement and Annual Giving, which maintains connections between more than 280,000 alumni, students and friends of one of the nation's largest universities.  Volunteer members of the board include executives from Northrop Grumman, Ronald McDonald House Charities of Central Florida, Coca-Cola Beverages, Verizon Wireless and other industry leaders.
"Dan has been an engaged volunteer leader with UCF for many years and his experience in strategic planning and communication make him an excellent choice for this role," said Julie Stroh, senior associate vice president for advancement, alumni engagement and annual giving at UCF.  "We are confident he will build upon our vision of fostering a culture of service and philanthropy in which our students, alumni, parents and friends remain actively engaged with UCF to support its continued success."
Ward will build upon the work of Immediate Past Chair and Broad & Cassel Partner Sara Bernard, along with staff leadership to serve the needs of UCF Alumni, provide service to the community and support UCF President Dale Whittaker's partnership and innovation goals.
Ward, who was voted chair-elect in 2016, has served two terms on the UCF Alumni Board over the last decade.  He also serves on the advisory board for the Nicholson School of Communication and Media, which inducted him into its Hall of Fame in 2011. He also is a proud graduate from UCF, where he earned a Bachelor of Arts degree with honors in journalism in 1992.
"Most of the major milestones in my life are colored in black and gold," Ward said.  "I'm passionate about my alma mater and the opportunities it has created for me as a student and as an alumnus.  I can't think of a better way to give back than through an organization serving the interests of UCF alumni around the globe."