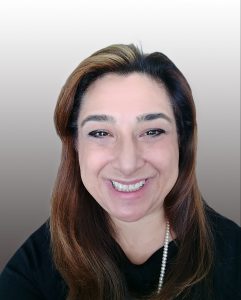 AR Perpetual Garden App Presented at MW19, the 23rd annual MuseWeb conference, in Boston 2019.

Envision going out to a natural museum and not being limited to a small spectrum of flora and fauna but experiencing every single flower year-round, regardless of season or weather. With just one click, flowers bloom into existence, along with important information that will create an unmatched museum experience — something people must see for themselves.
Maria Harrington, digital media professor at NSCM and director for The Harrington Lab, has created an app that generates an immersive augmented reality (AR) environment that allows visitors to create virtual gardens. She's partnered with John Wenzel, director of Carnegie Museum of Natural History's Powdermill Nature Reserve and Markus Tatzgern, a professor with the Multi Media Technology program of the Salzburg University of Applied Sciences and students, to create the app.
Harrington's research has always focused on Virtual Nature, extending work in the development of Simulated Ecological Environments for Education (SEEE) to augmented, virtual, and mixed reality. Now, her app can be used to enhance the learning impact of real gardens on the paths of the Powdermill Nature Reserve, and on the exhibitions at Carnegie Museum of Natural History, which is only the beginning.
Other museums or schools interested in using such apps for classrooms and field trips are able to download and use the apps now from iTunes and Google Play stores. AR Perpetual Garden originally launched last year and has only been gaining momentum.
In the future, people may be able to experience past forests, flora and fauna, and walk alongside augmented dinosaurs in historical museums, taking imagination and education to the next level. The revolutionary app has begun to modernize natural history and re-animate it in a way to enrich previous learning experiences in the real world.
Recently, Harrington's paper, "Augmented Reality Brings the Real World into Natural History Dioramas with Data Visualizations and Bioacoustics at the Carnegie Museum of Natural History," was accepted to one of the top journals in museum studies, Curator: The Museum Journal, which will allow her work to be recognized by leaders in the field worldwide.
Her presentation, "Virtual Dioramas Inside and Outside Museums with the AR Perpetual Garden App," explicated the app's uses on April 5 at the MW19, the 23rd annual MuseWeb conference, in Boston 2019. The paper can be found here.
Harrington plans to run a study in the Carnegie Museum of Natural History's main gallery this upcoming summer as well.