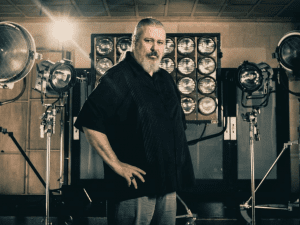 The August spotlight has cast its light on an individual who knows all about the importance of proper lighting, effects and angles as he has worked with many himself behind the scenes of popular movies.
Film and Mass Media Visiting Lecturer Michael Walsh has worked the set on highly acclaimed TV series and films such as "Dawson's Creek," "Mortal Kombat: Conquest," "The Truman Show," "Pirates of the Caribbean: Dead Man's Chest" and "Angels and Demons."
Often as the head electrician or gaffer, he has more than 30 years of experience in film production and is savvy with a camera.
Walsh has worked on big budget films. And he has worked on micro budget movies. He even directed and produced the award-winning eco-documentary "Leap of Faith: Fast Lane to Farmstead," which follows the story of Eric Smith and Pascal Destandeau of Pugs Leap Farm, a gay couple who gave up their corporate life in San Francisco to lead a more self-sustaining life – running a goat dairy farm.
He is a jack of all trades, with skills ranging from cinematographer to director to digital content creator – and he has even dabbled in script writing.
Born in New York and growing up in Rochester, N.Y., he was initially interested in photography.
"I was born to a generation that used film as a basis for photographic creative process," said Walsh. "There was no digital in those days. Growing up in Rochester – everybody wanted to be a photographer – it's in the soil up there, it's in the water, it's in the air, you live it, you breathe it, because Kodak world headquarters was founded in Rochester. That was home."
But he soon found that working on films is where his true passion resided, and he proceeded to invest much of his time and efforts into being a lighting technician.
However, after he helped shoot the film "Angels and Demons," based off Dan Brown's bestselling mystery-thriller novel, Walsh began experiencing health complications and needed to walk away from the whirlwind world of filmmaking.
He was at a standstill for the first time in his life, and he contemplated his next step. Several surgeries and months of rehabilitation gave him time to reflect.
He thought about his various mentors growing up – the many relationships that had meant so much over the years – and the oath he pledged to his trade union brothers when he promised to share the wealth of knowledge he had acquired with others when his time came.
After lecturing at a seminar on High Intensity Lighting in Los Angeles, Walsh was approached by a chaperone with a group of students from a local college. They asked if he would be interested in teaching.
Although Walsh had not yet finished his degree, which he had begun years prior at UCF, he decided that there was no better time than the present to continue his education. So, he returned to UCF to finish his degree in order to start the next installment in his life – teaching.
In December 2016, he received his bachelor's degree in Writing and Rhetoric at UCF, and in 2020, he graduated from Full Sail University with a master's in fine art degree in Creative Writing – focused on Entertainment Screenwriting.
Starting as an adjunct instructor, he has now been teaching at UCF for five years. He instructs a range of film classes, which he has helped design, and is currently in the process of creating a cinematic lighting class, which he hopes will be ready to be taken by students in 2022 as an elective.
His favorite movie growing up was the science-fiction film "Close Encounters of the Third Kind," which was directed by Steven Spielberg, and one of his favorite memories was on the set of "Pirates of the Caribbean," when he met some of the crew who had also previously worked on "Close Encounters."
The highlight of his career came when he worked on a film for Lucasfilm Limited in 1992. For six months, Walsh worked as a camera grip on the film "Radioland Murders." While working on second unit, Walsh was promoted and worked directly with George Lucas, his childhood hero who is best known for creating the "Star Wars" and "Indiana Jones" franchises.
Walsh has also published fiction and non-fiction works including a memoir titled, "Run Away with the Circus," about the story of his youth and coming of age in the raucous, filmmaking world of Hollywood from the mid-80s to 2000s.
Walsh now has a new life mission – to mentor and teach the new generation of students by passing on his own extensive knowledge of the film industry. He hopes to inspire a new generation, the way he was inspired so many years ago.
"What I believe in very deeply is that creativity is fundamentally at the root of who we are," said Walsh. "And the act of breathing life into something – whether it be books, a movie or a painting – by creating something that didn't exist before through the honest work of your hands and your heart is the purest reflection of who we are. Learning and creativity only has value when you share it and pass it on to others."
For more information on the Film and Mass Media program that Walsh is a part of, click here.
Published to Nicholson News on August 2, 2021. Written by Iulia Popescu.
If you have any news, accomplishments or highlights about your work or life, please be sure to share them with us, by emailing us at nicholsonews@ucf.edu.