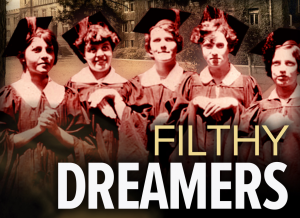 Censorship in the classroom — that's the profound theme of the University of Central Florida's student-produced documentary "Filthy Dreamers," which just received the 2020 Ogeechee International History Film Festival's Best Student Film Award.
The Ogeechee International History Film Festival is the only open submission, juried, international cinema program of its kind.
In the past, festivals devoted to history films have been located solely in Europe. Now in its fourth season, the Ogeechee International History Film Festival is the longest-running such festival in the world. Receiving an award from them is a huge honor.
"Filthy Dreamers," focuses on efforts to restrict the academic freedom of female students at the Florida State College for Women in the late 1920s.
The religious fundamentalist who started the classroom debacle proclaimed that material on evolution was "corrupting young women's minds" and called students "filthy dreamers." Lawmakers and religious activists sought to ban textbooks and classes on evolution.
During that time, the Florida State Women's College was the only public university that allowed white women to enroll and found itself in the midst of an ideological battle as religious activists tried to control what was taught in the classroom.
Nearly 100 years later, this issue remains relevant as public figures and religious activists continue their attempt at controlling curriculum in public schools, colleges and universities.
The 29-minute film was produced by UCF's Burnett Honors College Documentary Workshop class, 2013-14, made up of students Will Chorvat, Jason Clarke, Carter Howard, Beverly Nwokoye, Amber Pietrowski, Orlando Porro and Rachel White.
A second honors class composed of students Ernesto Calderon, Tiffany Campbell, Emma Duncan, Louis-Christophe Fortier, Kristen Keefer, Ramsey Khawaja, Kristina League, Derek Loucks, Carmen Malca, Alexander McKeel, Michael Reed, Nichole Santana, Shannon Specie and Antony Zeng worked on the film, as well.
"Filthy Dreamers" was narrated by associate professor of history Connie Lester, and led by project faculty advisers Robert Cassanello, Ph.D., and Lisa Mills, Ph.D.
Mills is an associate professor of film at UCF who teaches documentary production. She holds her B.A. in English from Jacksonville University, her M.A. in Mass Communication from UCF and her Ph.D. in Political Communication from the University of Florida. Her films have won numerous national and international awards and have screened in festivals all over the world.
Cassanello is an associate professor of history at UCF and a publicly engaged scholar. He has curated exhibits such as "The Long History of the Civil Rights Movement in Florida" and "From Kin to Kant: Turpentine Culture in Central Florida." He has also produced numerous media projects such as the films "Filthy Dreamers" and "The Committee" with Mills.
"My goal is to make artistic choices that will help others understand the souls and settings in my films," Mills said. "I want my work to dramatize conscious and unconscious truths of the human experience."
Along with receiving the 2020 Ogeechee International History Film Festival's Best Student Film Award, the film is also a College Television Emmy award winning documentary and has received an honorable mention from the Broadcast Education Association's Festival of Media Arts.
"Filthy Dreamers," was additionally the first UCF film ever nominated for a College Emmy and went up against entries from Chapman University in Orange, California and Northwestern University in Evanston, Illinois.
The documentary is now airing on public television stations across Florida, presented by WUCF-TV.
To view a trailer of the film, click here.
Published May 1, 2020. Written by Iulia Popescu.
If you have any news, accomplishments or highlights about your work or life, please be sure to share them with us, by emailing us at nicholsonews@ucf.edu.