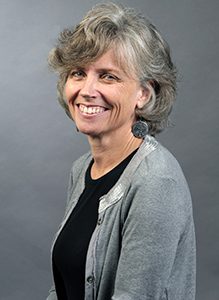 October is Breast Cancer Awareness Month, a time for education, information and promotion of regular screening and early detection of breast cancer. Dr. Ann Miller, a professor at the Nicholson School of Communication and Media, is both an expert in health communication and a breast cancer survivor. Here she shares her own personal story with breast cancer, the importance of early detection, and how to support one another.  
Q: Why is breast cancer awareness month important?
"About one out of every nine women in the United States will be diagnosed with breast cancer in their lifetime. Almost everyone is touched by it somehow. Our medical system is phenomenal at treating breast cancer, but the key is catching it early."
Q: When it comes to breast cancer prevention, how important are routine or annual screenings?
"Annual screening, usually from age 40, can mean the difference between finding breast cancer early when the prognosis is good and treatment has minimal side effects, and a less positive outcome. Mammograms don't spot everything, and about 10% of conditions flagged by mammograms are false positives. So, they're not a perfect tool. But all they require is about 20 minutes a year (plus travel time, of course). It's worth the trouble."
Q: When did you first discover you had breast cancer?
"I spent most of last spring going through diagnostic procedures. The type of cancer I had—invasive lobular carcinoma–is a little bit uncommon and hard to spot with mammograms. So, it took multiple imaging procedures, a biopsy, and a lumpectomy to determine that I actually did have cancer. I'm very grateful to my OB-GYN, who ordered additional tests even when the irregularity on my mammogram wasn't very pronounced."
Q: What was the most challenging part of your journey and how did you overcome it?
"As it turned out, an additional lymph node biopsy indicated that my cancer was Stage 1. Genomic testing indicated it wasn't particularly aggressive. All of that means I was blessed not to need chemotherapy. I had radiation over the summer, and I was able to continue teaching and researching throughout treatment.
The most difficult thing for me was that cancer is all about living with uncertainty. For months I didn't know if I had cancer or not. Then I didn't know how advanced it would turn out to be. Now, although I'm officially cancer free, I don't know if and when it will recur. With cancer (and many other illnesses) you have to learn to live with the reality of your own mortality. I'm a Christian, and an understanding of that is part of our faith. But, of course, dealing with it on a personal basis brings it home."
Q: What advice would you give to someone going through breast cancer?
"I'd rather give advice to people who know someone going through cancer or dealing with other serious life difficulties.
 
I want to quickly state that I have a great support system in my family and church. I'm doing well. But often when you see someone going through this sort of thing you may wonder, "What can I do?" And of course, you know if you say to the person, "Just let me know if there is any way I can help you," they will most likely never tell you anything. Because part of their difficulty is they don't know what they need. Or they don't have energy to think about it. Or they may be focusing all their mental effort on just surviving.
So, what to do if you want to support someone with cancer or another serious illness? Here are some thoughts from my experiences and those of others:
Don't be afraid to ask how they are doing. People with cancer or other illnesses are used to talking about them. Most of the time they are happy to explain things. They'll tell you if they'd rather not talk. It's harder when people don't ask you because you need to know they care.
Send a card. You might think it's such a small gesture, but the cumulative effect can be big.
Give a gift. Don't worry if you don't know what the person needs. Just give them something so they know you are thinking of them. Restaurant gift cards are almost always a good idea, as are meals. A couple of my colleagues at UCF gave me small but touching gifts, including a set of potholders made by one colleague's young children. I use them every day!
Give distraction. Sometimes people get tired of thinking about their illness, and they'd welcome some distraction. Take them out or give them a gift card for an activity.
If you're a person of faith, pray for them. I loved knowing people were praying." 
By Majdulina Hamed.
Published to Nicholson News on October 6th, 2023.
If you have any news, accomplishments or highlights about your work or life, please be sure to share them with us, by emailing us at NicholsonNews@ucf.edu.