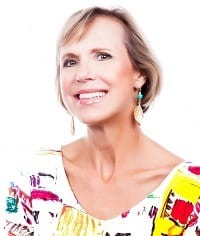 According to American Communication theorist David Berlo, "meanings are in people, not in words." This quote is especially relevant to Stephanie Rice, radio and television instructor at the Nicholson School of Communication and Media. Rice has taught for over 15 years with courses including Writing for the Media, Principles of Videography, Principles of Postproduction and the Capstone course (RTV 4544) which she is currently teaching. She states that she thoroughly enjoys these courses because they utilize her greatest strengths that she can bring to the students. To learn more about this well-versed instructor, Rice was kind enough to answer some questions about her classes.
Rice goes into detail about the capstone class she is teaching at present. She reveals that her capstone students just produced a five-camera studio shoot with a professional band. Pushing through the demand of long 9-hour days, she commends her students for what a great job they did.
As for her students that have graduated, there are some working in the radio and television industry in New York and Los Angeles. In fact, "One I know is and has been working on the Today show.  Another two are there free-lancing.  In LA, we have several graduates working on various productions from Shark Tank, movies, such as Space Jam II, Aquaman, and recently The Lost City. Additionally, one of my grads is working for NBC Universal in LA. And 4-5 graduates are working at ESPN. I keep in touch with all of them to encourage them in any way I can. Their success is my success."
When it comes to her teaching, she believes that although learning can be fun, she must find a balance for when she should keep things serious and when to make things light. "I always start out with laying a good foundation of knowledge both practical and theoretical and then give them the opportunity to apply that knowledge in their projects before moving on. Even though it is difficult at times, it requires "tough love;" giving those difficult critiques, but ultimately helping them to know what to improve on to perform better going forward." This demonstrates that Rice is a very passionate instructor who is very involved in her students' success. In fact, when students answer questions correctly in class, she throws chocolate at them as an incentive. "The best part for me (…) is in the classroom, seeing the lightbulb go off and fostering student learning and growth."
She shares that her most rewarding accomplishments have been with her students' successes. For instance, she was a National Broadcasting Society (NBS) adviser in which she advised student teams who went to national conventions in New York, Los Angeles, Philadelphia to name a few. These students have won numerous awards for their submissions that included writing, on the spot reporting, promotional sports, comedic productions, and more. She goes on to say that "this is so rewarding to me as I feel perhaps, I have had some impact on the students I've taught so that they are headed into their chosen profession and will win awards there! This makes teaching so meaningful to me." And while her students' successes are noteworthy, Rice also has exceptional achievements. One that stood out to her was when she was the Program Coordinator for the RTV department where she led the faculty in completing a curriculum redesign and changing course structure in making course content more applicable for the students. Another triumph was when she applied for her first grant and collaborated with Lisa Mills in the film department "to produce a film about Sam Rivers, a talented nationally renowned musician, composer and arranger before his death a few years later.  It was selected to be in the International Florida Film Festival." Additionally, in the summer of 2017, Rice had the opportunity to join fellow Nicholson instructors Katie Coronado and Erica Kight in Cuba for a seven-day study abroad trip for production and journalism students. "We all collaborated and produced two 30-minute shows about the art and culture of Cuba, one in English, and one in Spanish. It was intensive work yet a wonderful immersive experience for all."
Overall, Rice hopes that she can make a difference in the lives of her students whether it is in the radio/television industry or in their day-to-day lives. From her years of experience, she wants her students to understand how to collaborate with people, honoring themselves in the process and making short and long-term goals. She encourages her students that anything is possible and that they have the power to make their dreams a reality. The best way to do this is to be an example to her students. And even though words are not enough to demonstrate the true meaning of Rice's impact in and outside the classroom, her students are an excellent representation of her part in making the world a better place.
By Majdulina Hamed.
Published to Nicholson News on November 1st, 2022.
If you have any news, accomplishments or highlights about your work or life, please be sure to share them with us, by emailing us at NicholsonNews@ucf.edu.