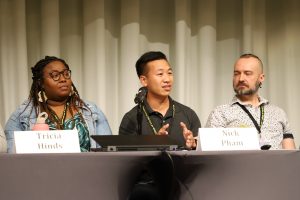 UCF's fifth annual Celebrate the Arts, which took place April 5-14, 2019, showcased interactive displays of student artworks and included events such as alumni socials, theatre performances, video game demonstrations and author talks.  
"The fifth Celebration was the most attended to date, with over 15,000 tickets sold for more than 40 events," Michael Wainstein, the producer of UCF Celebrates the Arts and director of the School of Performing Arts, said. "Two sold out performances of the musical Titanic set the tone for a week that included music, art, history, literature and dance. We celebrated Puerto Rico, The Big Read, new plays, new music and six composers who have not even reached their 18th birthdays creating thrilling compositions!"
Many of the events that took place the week of Celebrate the Arts involved NSCM staff and students. On April 6, a presentation about the Life/Ways project, started by digital media majors, explored the relationship between fact and fiction through digital storytelling.
Another event, the Celebration of Arts, Storytelling and Technology went on April 10, where students displayed videogames they had created, which was then followed by a Creative Careers Alumni Panel, held in the Dr. Phillips Center for the Performing Arts.
The panel was comprised of a diverse board of six UCF alumni: Melissa Bush '13MFA, Andrew Catron '10, Tricia Hinds '15, Nick Pham '09 '10MA, Jarrod Pope '08 '14MS and Jamin Smith '15, who all have successful careers in animation, graphic design and game design. They spoke about their professions and offered advice that would be beneficial for students trying to get into those respective fields.           
A focal point for the discussions revolved around how resources and experiences helped prepare the alumni for their current positions today. They credited various things as valuable in helping them on their journeys — networking, time management, teamwork — all of which UCF aided in teaching them.
"My biggest takeaway was the networking," Pham, who is now a producer with Iron Galaxy in Orlando, stated. "A lot of those people are in different parts of the industry now that I can always talk to and I work with a lot of them now."
Additional resources, such as the Office of Experiential Learning, located on UCF's main campus at Career Services, are often overlooked but can be game-changing to utilize.
Catron, a 3-D artist in the video game industry currently working at Electronic Arts (EA) Sports, knows just how essential such resources can be.
"When I initially got started, I was about to graduate and didn't have anything lined up," Catron said. "I found the Office of Experiential Learning where you can fill out stuff on there and then you get access to all these jobs just for students, so I found a job on there. Start to cater your skills towards something you can see yourself doing."
Experiential Learning provides internship opportunities, offers workshops and connects UCF students to job opportunities from local, national and international companies.
Another important takeaway the panel discussed was gaining more skills through varied courses and projects.
"Taking other classes like business classes helps too," Smith, who is currently a Graphic Design Specialist for the City of Lakeland, said. "Being a freelancer is my job. How do you flourish? How do you make money off of this as a freelancer? You need to know about that."
To watch the panel discussion in its entirety, check out the full livestream on Nicholson's Facebook page.
Although Celebrate the Arts happens just once a year, the arts at UCF are active year-round. Join them on campus and in the community for a concert, exhibition or show sometime.
This article was written by Iulia Popescu.