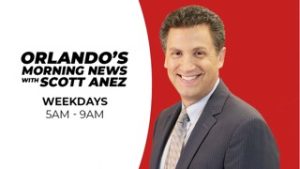 For Immediate Release
Contact: Katie Coronado
katie.coronado@ucf.edu
---
(FLORIDA) April 27th, 2023 – Nicholson School of Communication and Media alumnus Scott Anez will be this year's 2023 Hall of Fame inductee. Anez graduated with his Bachelor of Arts degree in Radio-Television in 1988. He has spent his career in Orlando as a well-known radio and sports on-air personality.
"I always had an intrigue about the broadcast field because I had grown up listening and watching so many great broadcasters and they had a magical effect on me," said Anez.
He is currently the host of Orlando's Morning News with Scott Anez, which airs on WBDO-AM/FM. He has also hosted "Afternoons with Scott Anez" on ESPN580 and was the radio/broadcast host of the Orlando Magic for over 19 years. Scott was featured in the "ESPN 30 for 30" documentary about the Orlando Magic.
In addition, when it comes to networking with the impressive list of local and national news stations, he said that he "kept his hand in both news and sports knowing how crazy this business can be. I wanted options in the future, and I wanted to stay here in my hometown of Orlando."
"Scott is one of the most recognized voices in Orlando and across the country, and his induction into the NSCM Hall of Fame is well-deserved. He is an outstanding broadcaster, and we are very proud of him and his accomplishments," commented Robert S. Littlefield, Director of Nicholson School of Communication and Media.
"I've had a lot of great opportunities with the Magic, with ESPN, and WBBO over the years…and you never know what kind of impact in the business you're going to have on a given day on people."
Read more about Scott here:
UCF alumnus Scott Anez radio host ESPN Orlando and WDBO Inside Magic
Interview with Scott Anez:

---
If you are planning to attend on April 27, please RSVP here https://foundation.ucf.edu/NSCMHallofFame so that you will receive a parking code & name tag for the event.
About the NSCM Hall of Fame: The NSCM Alumni Hall of Fame recognition began in 2000, with 36 communication and media professionals on the list of past inductees. This outstanding group of leaders in the industry are chosen based on their achievements and positive impact in the field of communication and media.
About NSCM: UCF's Nicholson School of Communication and Media located in Orlando, Florida, offers students competitive opportunities to learn and work in diverse areas in the changing field of communication. Among the accolades for NSCM include being named as one of the nation's top ten universities for Game Design in the Princeton Review in 2023, producing award winning students who received an Edward R. Murrow Award and other recognition by the Associated Press, and producing consecutive national champions in International Parliamentary Debate. NSCM is uniquely positioned to educate the next generation of leaders in advertising, journalism, feature film production, communication and conflict, interactive media and game design through internationally recognized faculty, innovative academic programs, cutting-edge research and strong industry and community partnerships. To learn more, visit Nicholson School of Communication and Media (ucf.edu).