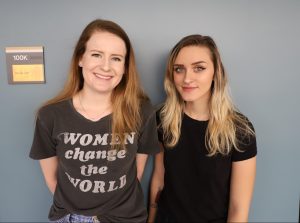 Digital media majors Alexandria Rybinski and Delaney Lekien have just won a game-changing experience — a chance to attend the Game Developer's Conference (GDC) in tech-laden San Francisco, California.
The scholarship is specifically aimed at promoting and encouraging women who are new-in-industry or pursuing a game-related degree program.
"I think most of the people in my major are men and we come from different experiences," Lekien said. "I'm fortunate to have their input, but I would like to see a women's perspective more often."
Each year, Microsoft's Women in Gaming and Team Xbox sponsor 30 Game Changers, who are passionate people starting out in the gaming industry, through the scholarship.
"Hundreds of women and allies in the game development community gather [at GDC] to network, learn from one another and reward each other for successes in the industry," said Christina Parker '12 who works as a live producer for Microsoft Studios. "UCF students have a history of winning. I myself started as a Game Changer when I was a student at UCF too."
Both Rybinski and Lekien were initially encouraged to apply for the scholarship through their professor, Peter Smith, Ph.D.
"I'm currently doing an internship for UCF Restores," said Lekien. "My boss and professor, Peter Smith, and I had conversations about more things for women in the gaming industry. He connected me with a couple women and told me about this scholarship which was really exciting. He's very involved with GDC."
The winners of the Game Changer GDC Scholarship receive a Core and Summits pass to attend the Game Developers Conference and Summit in San Francisco, California, from March 16-20, 2020. Recipients also receive a ticket to the Women in Gaming Game Changer Mixer event on Monday, March 16, 2020 and a ticket to the Women in Gaming Rally event on Tuesday, March 17, 2020.
"Different passes give you different things … so you have a lot more available to you at the conference, like specialized talks," Lekien said. "I've personally never been so this will be my first time going."
"I'm most excited about the networking opportunities I'll have at GDC," Rybinski said. "I'm also really excited about the game level design summit with the creators of Untitled Goose Game! I'm hoping that through the panels and summits, I'll be able to learn more about professional game development."
Published February 1, 2020. Written by Iulia Popescu.