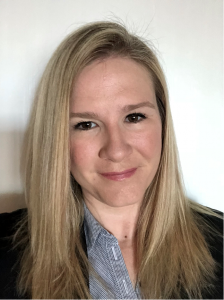 UCF's national prominence reaches far and wide. NSCM journalism alumna Laura Stevens '04 is the latest to make big moves from sunny California.
Stevens has recently joined The Washington Post as deputy editor for technology. She now edits a team of reporters writing about America's biggest technology companies, their relationships with consumers and the culture of Silicon Valley.
"It's been amazing to work for a newspaper that I learned all about in journalism 101 at the Nicholson School," Stevens gushed about her experiences with the Washington Post. "It's a stellar institution, and it's great to be carrying on that tradition as deputy technology editor at the newspaper's new San Francisco bureau. Our bureau covers some of the biggest and most powerful companies in the world. Pretty much everyone has an iPhone or shops on Amazon. We want to tell stories about these companies that matter to all of our readers."
While attending UCF, she took part in UCF's German study abroad program. After graduating college, she returned to Germany where she interned and then was eventually hired by the Wall Street Journal, covering topics such as the Deutsche Bank.
"I participated in UCF's German study abroad for a summer in Koblenz, which was a great experience and helped fuel my interest in the country and language," Stevens said. "After college, I went to Germany for a year as part of the Congress-Bundestag Youth Exchange, during which I studied at a university near Berlin and also interned for The Wall Street Journal. After my first job at the Arkansas Democrat-Gazette, I was selected for a year-long Fulbright for young journalists and spent another year in Berlin. That time I interned for both the AP and the Wall Street Journal, and the Journal ended up hiring me."
Fulbright Germany's journalists program provides talented young U.S. journalists the chance to receive a research and practice-oriented experience in Germany. The program allows students to gain insights into the political, cultural, economic, and social fabric of a different country, expanding their worldview and producing global connections.
She stated how important her real-world experiences were and offered some advice.
"Intern, intern, intern!" she said. "Get experience at small publications and work your way up. Say yes to everything. Be the first one in and the last one out. You're up against talented journalism students from tons of universities, and it's tough competition in this day and age. But it's possible to succeed with hard work and passion for the mission of what we do."
Stevens spent the last nine years at The Wall Street Journal, most recently covering Amazon's ever-expanding reach. She broke the news that the company was splitting its second headquarters between New York and Crystal City and was the first to report its final decision.
She was part of the team that won the SABEW Best in Business award for breaking news coverage of the CVS-Aetna deal and was a Gerald Loeb Award finalist for the same category. She also won a Loeb for breaking news this year for her reporting at the WSJ on Amazon's HQ2.
"Laura is a proud NSCM alumna who regularly contributes to our classes through Skype, Google Hangout and FaceTime visits," Rick Brunson, associate instructor, said.
Stevens is now based in San Francisco and has been working at The Washington Post since April 29.
This article was written by Iulia Popescu.