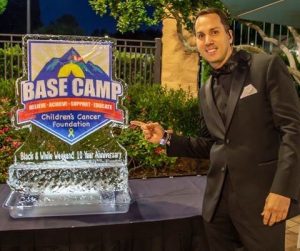 For 11 years now, Heissam "I'm in" Jebailey has been fundraising and putting on his Annual Black and White Weekend for BASE Camp Children's Cancer Foundation. When the COVID-19 pandemic hit, he decided that he wouldn't let anything stop him from fundraising, even if his annual event wouldn't be able to proceed as originally scheduled.
Jebailey is a former Ad/PR student, a NSCM Hall of Famer and Advisory Board member. He is also the CEO and founder of I'm in. Events.
"I'm in. full support of the Nicholson School for life and I would not be where I am today without my education, experience and ongoing support from everyone there," Jebailey said on his Hall of Fame plaque.
Every year, Jebailey hosts a fundraising event, entitled the Black and White Weekend, to raise money for BASE Camp Children's Cancer Foundation.
Black and White Weekend is a fun, affordable and unique gala for people of all ages and professional backgrounds where there are opportunities to network, take photos, participate in silent auctions, enjoy food, dance and donate in an upscale venue over two days and one night – all while supporting a wonderful charity and ongoing wellbeing.
While the Annual Black and White Weekend had to be postponed, that did not mean that the fundraising would be.
"I'm in. reports that The Committee helped raise over $9,500 for BASE Camp during a Pandemic without hosting the [Annual Black and White Weekend] event yet," Jebailey said.
Jebailey originally became involved with BASE Camp when he met the President of BASE Camp, Terri Jones Robbins, and her team in 2012 soon after being inducted into the NSCM Hall of Fame.
"I fell in love with their smaller organization, their mission and their constant vision and work ethic to bring smiles to families year over year," Jebailey said. "I wanted to do the same because of my battle with near fatal pneumonia and pre-cancer lymph nodes in 2000, months after graduating from UCF. The rest, as they say, is history."
BASE Camp Children's Cancer Foundation was established in Orlando, Florida in 1982.
"BASE Camp provides a year-round base of support for children and families who are facing the challenge of living with cancer and other life-threatening hematological illnesses," said Jones-Robbins.
The event Jebailey hosts is now the largest Black and White Weekend for charity and wellness in the world. It has been postponed until Saturday, October 10, 2020 for its eleventh year followed by Saturday, May 15, 2021 for its twelfth year.
In addition to raising funds for kids battling cancer, Jebailey and The Committee will be supporting NSCM.
"Having never forgotten where I got my start, this year we will also be selling art underneath the outdoor tent courtesy of one of our many sponsors, Monica Black with Art, Design and Inspiration Gallery," Jebailey said. "100% of those proceeds during the event will go directly towards the NSCM Mentorship Program this year."
For tickets and more information, please visit this page.
Published June 1, 2020. Written by Iulia Popescu.
If you have any news, accomplishments or highlights about your work or life, please be sure to share them with us, by emailing us at nicholsonews@ucf.edu.