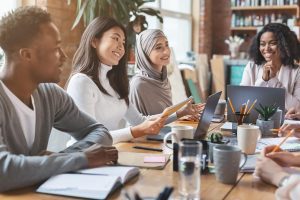 Let's talk about how we talk about work.
From "the great resignation," to "no one wants to work anymore" to "quiet quitting" media coverage of our work culture in the United States is having a moment. While some of the attention is through click bait style headlines, or hot takes about viral TikTok videos, these narratives are important reflections that we should not ignore. Indeed, many industries are seeing higher turnover rates and organizations are reporting a shift in employee expectations and norms around workloads and work/life balance. However, some of the tones of moral panic, and the stoking of the flames of evergreen generational divides highlight more about what we are getting wrong than right at work.
In both my positions as faculty at a large public university and as a consultant for a diverse range of organizations, I see the roots of these perspectives daily. From discussions about academic rigor and grade inflation to executive frustrations with early career employees work boundaries, these ideas are deeply engrained in our working and learning spaces. Astonishingly, I read an article this week about how to have an effective "workcation"! As someone who dreads facing my inbox after a single sick day I get the point here, but we really need take a more honest look at the impact of these structures and expectations. Many other countries have far better national policies and cultural attitudes toward balancing work and rest (see France's Right to Disconnect law, 35 hour work week, and shifts to four-day work weeks in Europe). There is evidence for both a business and moral case for change.
Resistance to the dominant norms around work in the United States is not new, and the push back is not all that radical. However, the way we talk about work, and the norms we embrace in our organizations have significant impact on the ability to recruit and retain employees. As competition for diverse talent continues to rise in many industries, hiring officials and committees would be remiss to not address these issues and make strides for more humane and equitable cultures and climates. As a recent Gallup Poll showed, in addition to pay, greater work-life balance and personal well-being has been a top priority for job seekers, increasing significantly in recent years. It's time for organizations to get serious about diversifying their workforce and making long overdue changes to the workplace itself.
Below are some reminders about inclusive and equitable hiring and onboarding practices:
Be intentional about including a range of perspectives (both identity and role based) in the hiring process
Talk openly and honestly about what your current organizational culture is and how you plan to address issues like lack of diversity, retention difficulties, or climate and culture problems
Recruit broadly, actively, and directly. Passive recruitment tends to lead to a less diverse pool.
Write a clear and accurate job description and hire for that description
Avoid discussions about vague criteria like "fit" that are often code for "like us"
Move through the process as efficiently as possible and communicate with applicants regularly if there are delays
Provide clear ways for new employees to connect with peers and develop a constellation of mentors
When you have empty positions that require quick hiring do not sacrifice commitment to an inclusive and equitable process that has potential to diversity your organization
Don't forget that retention requires active engagement with workplace culture and climate
Published to Nicholson News on September 2nd, 2022.
This article was written by Jennifer Sandoval, Ph.D., Associate Professor, Assistant Director of Inclusive Culture, and Ph.D. Program Coordinator.
She can be contacted at Jennifer.sandoval@ucf.edu. Edited by Robert Littlefield, Ph.D.
If you have any news, accomplishments or highlights about your work or life, please be sure to share them with us, by emailing us at nicholsonews@ucf.edu.