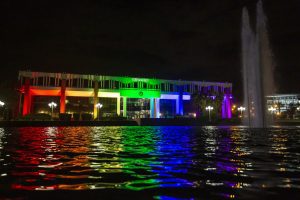 June is Pride Month
The first pride was a riot. This is probably something you have heard over the years as LGTBQIA+ pride events gained visibility across the U.S. On June 28, 1969 police raided the Stonewall Inn, a small bar in New York City. These raids were fairly common at the time and were a part of the enforcement of the discriminatory "cross-dressing" laws. Police applied an informal "three article rule" which essentially required that people were wearing at least three pieces of clothing that aligned with the gender category on a state issued ID. At this particular raid the patrons of Stonewall decided to resist and fight back. While the official order of events continues to be contested, the spirit of the uprising is clear – queer folks were reclaiming their safe space and fighting for their right to exist authentically.
The following year a Gay Pride Liberation March was held to commemorate Stonewall. However, it wasn't until 1999 when Pride Month became officially recognized under a proclamation from President Bill Clinton. Since then, Pride celebrations have become larger and more elaborate, but for most continue to be centered on queer joy, community, and liberation.
There have been increasing critiques of the corporatization of Pride events and "rainbow washing" during Pride month. Rainbow washing refers to the practice of adding rainbows and rainbow colors to products and advertisements during June in performative support of the LGBTQIA+ community, while not doing anything to substantively contribute to gay and trans rights. Many critics see this as an empty gesture in pursuit of a better bottom line rather than actual support for the many issues facing queer folks in the U.S. and around the world.
This June it is important to amplify the fact that queer and trans people continue to experience discrimination and violence at much higher rates than their heterosexual and cisgender counterparts. The American Civil Liberties Union is currently tracking 474 anti-LGBTQ bills across the country with 10 of them advancing here in Florida. Many of these bills impact critical healthcare access, but they also attack free speech, education, and basic civil rights and safety. Several Pride events in Florida have already been cancelled due to fears about basic safety for participants.
It is as important as ever to recognize and protect the powerful history and meaning of Pride month. While our communities are facing unprecedented attacks and being denied basic care and safety, these spaces can allow us to come together in joyful celebration.
To celebrate and support the LGBTQIA+ community see these important local organizations:
Published to Nicholson News on June 1st, 2023.
This article was written by Jennifer Sandoval, Ph.D., Associate Professor, Assistant Director of Inclusive Culture, and Ph.D. Program Coordinator.
She can be contacted at Jennifer.sandoval@ucf.edu. Edited by Robert Littlefield, Ph.D.
If you have any news, accomplishments or highlights about your work or life, please be sure to share them with us, by emailing us at nicholsonnews@ucf.edu.