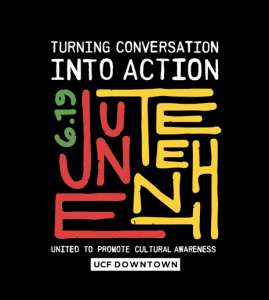 Juneteenth, often referred to as Freedom Day, is an important commemoration of the day federal troops finally arrived in Texas to ensure the state began upholding the Emancipation Proclamation that had ended the practice of slavery in the U.S. a full two-and-half years earlier.
Many believe President Lincoln's proclamation led to the immediate end of enslavement. However, it was a prolonged process that required the cooperation of regions that were outside of Union control.
The proclamation was scheduled to go into effect January 1, 1863, but since it was the job of both Union troops and enslavers themselves to inform the enslaved individuals that they were free, it was difficult to enforce in locations like Texas where there were no Union troops. On June 18, 1865, in Galveston the message was finally delivered.
Juneteenth is likely the oldest African American holiday in the U.S. However, historically, it has not always been recognized by organizations or governments officially. It has gained more visibility in the last few years, specifically in June of 2020, a month after the murder of George Floyd and subsequent protests.
The day remains an important reminder of the continued structural and system inequity that impacts Black and African American communities in the U.S.
Juneteenth — the June 19 commemoration of the announcement in Texas of the Emancipation Proclamation — is a celebration of freedom. It is a time for reflection and rejoicing.
Due to the importance of Juneteenth, the Nicholson School has provided financial and staff support to aid this year's campus celebration. There will be several events held in June.
As Juneteenth is a time for assessment, self-improvement and planning for the future, a reflection and meditation session will occur on June 16 via Zoom and on YouTube.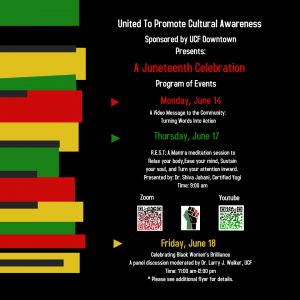 "As a meditation and yoga teacher, I seek to improve individual functioning through raising awareness, teaching contemplative practices and facilitating compassionate communities," said College of Community Innovation and Education's Certified Yogi Shiva Jahani, Ph.D, who will be leading the event. "As such, I will help my colleagues reflect and rejoice as well as focus on self-improvement through facilitating a mantra meditation session I created based on the acronym R.E.S.T.: (R) release (to physically relax your body), (E) exhale (to release your mind), (S) surrender (to sustain your soul/spirit), (T) take time to reflect (to tune into your emotional wellbeing)."
A panel discussion will also ensue on June 18, 2021, titled, Juneteenth: Recognizing Black Women's Brilliance, which will be hosted online on Zoom and YouTube by the United to Promote Cultural Awareness (UPCA) committee.
United to Promote Cultural Awareness is a UCF campus initiative with a committee whose vision is to use education as a means to drive change, create cultural awareness and provide learning opportunities that will increase the support and inclusivity of the Black community, which includes members of UCF Downtown as well as Valencia College Downtown.
ToCarra Jordan, program manager for the division of student learning and academic success, created United to Promote Cultural Awareness with the following thoughts in mind.
"After the death of George Floyd and a meeting with Provost Johnson, I was inspired to create an initiative that focused on driving change, creating cultural awareness and providing learning opportunities," said Jordan. "I thought that it would be a great idea to bring together a group of like-minded individuals who were passionate about engaging with and supporting the campus and the community, particularly the Parramore community. I believe that as a campus we can do more, and we should do more!"
UPCA already has been making an impact in their communities, previously hosting toy drives and food drives. Through their efforts, over 1000 families in the Parramore community were provided with food for the last Thanksgiving holiday and 138 toys were provided to students ages 5-7 from Orange County Public School's Academic Center For Excellence for Christmas last December.
Larry Walker, Ed.D., is also a member of the United to Promote Cultural Awareness committee as is the Nicholson School's own senior associate director, Boyd Lindsley, Ed.D., and coordinator of academic programs, Shameika Daye. Sponsored by UCF Downtown, the committee has existed for about a year.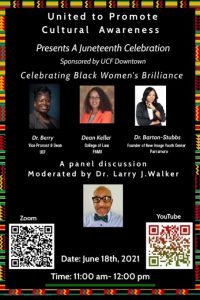 "I developed the idea [of the panel discussion] because historically the contributions of Black women haven't been recognized by the nation," said Walker, who will be the moderator for the discussion. "The recent election of VP Harris, the work of Stacey Abrams among other historic moments, are all part of a long history of political, academic and scientific accomplishments. Considering the significance of Juneteenth, I thought it was important to bring together successful Black women that epitomize Black excellence. Far too often, Black women must navigate misogynoir while being held to higher standards. Nonetheless, they continue to succeed. It is important to applaud their hard work despite the challenges."
Join in on the festivities as we acknowledge and celebrate Juneteenth as a campus!
Published June 1, 2021. Written by Iulia Popescu. Edited by Jennifer Sandoval, Ph.D., Associate Professor and Assistant Director of Inclusive Culture. She can be contacted at Jennifer.sandoval@ucf.edu.
If you have any news, accomplishments or highlights about your work or life, please be sure to share them with us, by emailing us at nicholsonews@ucf.edu.