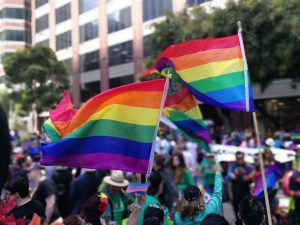 This summer has been a challenging season thus far, but there are important things to commemorate. While the U.S. Supreme Court has made a number of devastating decisions in the last couple of weeks, we also have vaccines now available for the youngest members of our communities. These paradoxes are ever-present in the work of equity and inclusion. The summer months are often associated with vacations, travel, and celebrations. It is essential to take breaks, to spend time with loved ones, and to remember important moments in our collective histories. However, there are significant nuances to hold space for as well.
LGBTQIA+ Pride Month
June is a month-long celebration of the LGBTQ community, honoring the decades of work activists, advocates, and educators have engaged since the Stonewall Riots in 1969. That landmark six-day protest was a reaction to a violent raid by New York City police on a popular gay club. In the 1960s police officers frequently harassed patrons at these spaces that were supposed to be safer for authentic expression and community connection. The history of the Stonewall Inn itself is complicated as it was a part of a group of clubs a crime family purchased seeing opportunity for profit if they catered to this marginalized group. Stonewall was an important institution in Greenwich Village known for being open to drag queens, trans folks, and homeless youth – as well as a great place for dancing. While raids were common, the Mafia would pay off NYPD to leave their establishments alone or at least provide tips for upcoming checks. However, on the night of June 28, 1969, no one was tipped off and the folks at Stonewall were tired of the constant discrimination. This galvanized the community and on the one-year anniversary thousands of people participated in the first "gay pride parade" at the Christopher Street Liberation Day. The movement was led by trans women of color like Marsha P Johnson and Sylvia Rivera. Today, there is real concern over "rainbow capitalism" represented by the increasing level of participation in Pride month by corporations who also donate to anti-LGBTQ politicians and causes.
In 2022, while more companies than ever have changed logos, sold rainbow merch, and created advertisements that "celebrate" gay pride, over 300 anti-LGBTQ bills have been filed across the country. Twenty-five of them have passed, including here in Florida where the "Don't Say Gay" bill censors discussion of sexual orientation and gender identity in schools. LGBTQ youth report increased levels of fear, isolation, and suicidal ideation in the latest National Survey on LGBTQ Youth Mental Health by The Trevor Project. So, while we should enjoy the Pride celebrations and continue to find joy and care in community, it is as important as ever for allies and accomplices to speak up, to show up, and to actively oppose the harmful rhetoric, and violent legislation that threatens LGBTQ folks everywhere.
Importantly, in Orlando we also honor June 12 as Pulse Remembrance – the day 49 members of the LGBTQ+ and Latine community here were killed. Visit OnePulseFoundation.org for more information about the memorial and Namigo.org for a list of LGBTQ+ services in the Greater Orlando area.
Juneteenth
June 19th has long been celebrated as an independence day for Black and African Americans, but in 2021 President Biden declared it a national holiday. The date is a commemoration of the day that enslaved people in Galveston, Texas finally received word of the Emancipation Proclamation, months after the end of the Civil War. The information was expected to travel around the country through Union soldiers and relied on enslavers themselves telling the very people they enslaved. We can certainly see the holes in those communication methods. While the end of slavery in the United States is an important moment in history it should also require us to grapple with the very existence of slavery and the long-term, generational, and systemic impact on Black Americans. In a year that saw over 200 anti-Critical Race Theory bills that seek to censor the teaching of history that includes the realities of slavery and racism in classrooms all over the U.S., only 24 states have acknowledged the day officially (Florida is not one of them).  Many private organizations have also chosen to commemorate the day. This is a complicated undertaking as we engage in self-reflexivity about our own identities, inherent privileges, or painful community history. Organizations should take this into account when making determinations about how to acknowledge this day that while an important celebration for Black folks, should be approached with recognition of the trauma, grief, and pain this day is also embedded with. Many local groups and universities provide education and service opportunities on Juneteenth that folks can consider each year. The last couple of years have seen an increase in visibility of violence against Black people, and the very real health disparities for Black communities. Similar to "rainbow capitalism" we see a number of companies engage in the commercialization of this day. While organizations have made equity and inclusion statements, we must continue to hold folks accountable for change and acknowledge the racism that is part of the lived experience of every Black person in the United States.
Fourth of July
Every year on July 4th the United States engages in celebration of the adoption of the Declaration of Independence that essentially formed the country in 1776. This is a common day off for many workers in the U.S. that is accompanied by barbeques, parades, and fireworks. This holiday also requires nuance and reflection as many communities do not share this specific narrative about America. For Indigenous and Native Americans, Black/African Americans, and White women know the document that is held so sacred did not include them in the claim that "all men are created equal." Many Native American communities hold their own celebrations on the day to honor their tribal veterans, traditions, and the resiliency of their culture in the face of colonization. Native American groups often reflect on a statement to the King from the Declarations signers "He has excited domestic insurrections amongst us and has endeavored to bring on the inhabitants of our frontiers, the merciless Indian Savages, whose known rule of warfare, is an undistinguished destruction of all ages, sexes and conditions" as representative of the sentiments that led to genocide, displacement, and cultural and religious suppression that came with the birth of the United States. Black Americans point to the fact that several of the writers of the Declaration were in fact enslavers and continued to promote the practice beyond this date of independence. In the U.S. women were not allowed to have a credit card in their own name until 1974 and while medical privacy that included access to abortion care existed for 50 years, the Supreme Court removed that constitutional right on June 24. While July 4th can be meaningful to many, I call upon all of us to reflect on the history of this date in all its reality and complexity.
This article was written by Jennifer Sandoval, Ph.D., Associate Professor, Assistant Director of Inclusive Culture, and Ph.D. Program Coordinator. She can be contacted at Jennifer.sandoval@ucf.edu. Edited by Robert Littlefield, Ph.D.
If you have any news, accomplishments or highlights about your work or life, please be sure to share them with us, by emailing us at nicholsonews@ucf.edu.