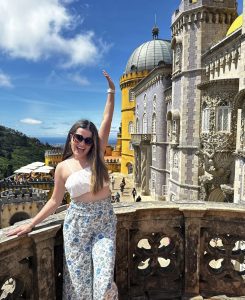 Courtney McLain, a student in the Nicholson School of Communication and Media, had the opportunity of a lifetime to travel to Portugal and Spain to study abroad. McLain shared her experiences and gave us a glimpse into her exciting itinerary while abroad.
"Over the past twelve days I have been participating in the annual "A Taste of Europe" study abroad trip with Rosen College of Hospitality Management. As a double major student studying Journalism and Political Science, I never expected to take a trip focused on food and wine such as this one but once the opportunity presented itself, I knew I had to take it. Getting the chance to travel out of the country for my first time, and to not only one country, but Portugal, Spain, and France, has been life changing for me, and truly given me a new perspective and new experiences to draw from while I complete my future work in journalism."
"While on this trip we have stopped in 6 different cities, stayed in multiple five-star hotels, eaten at multiple Michelin star restaurants [and former Michelin star restaurants], as well as toured many other well-known hotels and restaurants across the countries. Additionally, the students on this trip have had an entire itinerary of other activities each day including cooking classes, city walking tours, many wine tastings and tours of major wineries, a visit to a salt farm, and even visits to castles and a wine museum. As a student, I was also given the chance to have some free time almost every day, which gave me moments that I consider to be priceless, where I was able to learn and explore the cities, meet new people, and have conversations that have changed my life. One day if I come back to do work in Europe, my understanding of the people and culture of many areas will be greater than those who have never traveled to these locations, and I believe that this has opened my mind to greater possibilities of working internationally once I complete my schooling. I would fully recommend that if anyone has extra time to take any study abroad trip, whether it is related to your major or just sounds interesting to you, please take the chance."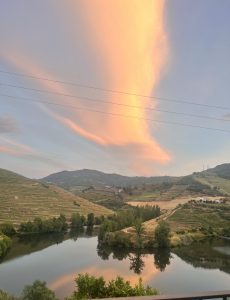 Photo courtesy of Courtney McLain,
The landscape at the Quinta do Tedo winery in the Ruo Douro Valley, Portugal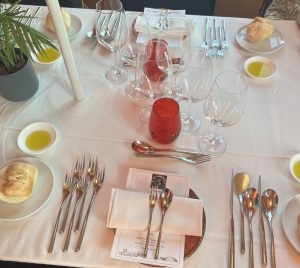 Photo courtesy of Courtney McLain,
Table set-up at the Restaurante Gastronómico Marqués de Riscal, a Michelin star restaurant, at the Hotel Marqués de Riscal, A Luxury Collection Hotel, in Elciego, Spain.
By Majdulina Hamed.
Published to Nicholson News on June 1st, 2023.
If you have any news, accomplishments or highlights about your work or life, please be sure to share them with us, by emailing us at NicholsonNews@ucf.edu.