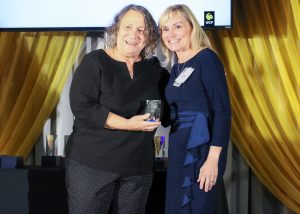 Deanna Sellnow, Ph.D., has been applying her ideas to help others all over the world, from South Korea to India to Sweden to Uganda. Her recent UCF Luminary award highlights the incredible work that she has accomplished.
The UCF Luminary is an award designed to shine a light on exceptional faculty whose work is advancing their discipline and making a difference.
Deanna Sellnow was bestowed this award in fall 2019 for her contributions to risk and crisis communication. Her ideas have proved to be a glimmer of hope in times of crises, a beacon in a storm.
"Together with my spouse and research partner, Tim Sellnow," Deanna Sellnow said, "I have been blessed with the opportunity to work with a variety of agencies and groups to help design and test instructional crisis and instructional risk messages to achieve behavioral learning outcomes that will ultimately protect people, property and lives."
The decades of work that the pair have put in helped design what is known as the IDEA Model for effective instructional risk and crisis communication.
This model has demonstrated to be advantageous when dealing with threats such as health pandemics, environmental hazards, biosecurity, food security, natural disasters and active shooter acts of violence.
IDEA is an acronym which stands for the four essential components in effective instructional risk and crisis communication messages — internalization, distribution, explanation and action.
"The 'I' stands for internalization," Deanna Sellnow clarified. "In other words, the message must motivate receivers to pay attention by tapping into personal relevance and impact. The 'D' stands for distribution. This has to do in part with message coordination among various agencies and spokespersons that are sending the messages to ensure they are both accurate and consistent. It also has to do with making sure to send these messages through channels that target audiences are most inclined to seek information from. The 'E' stands for explanation. Here, it is critical to be sure to be both accurate and intelligible to target audiences. Even the most accurate scientific message will fail if the receivers don't understand it. Thus, translating scientific language for comprehension by disparate publics is critical. Finally, the 'A' stands for action. Receivers need to be told precisely what actions they should or should not take for self-protection."
The husband-and-wife researchers have worked with and for the Department of Homeland Security, the US Department of Agriculture (USDA), the United States Geological Survey (USGS), Centers for Disease Control (CDC), International Food Information Council (IFIC), National Science Foundation (NSF) and Southern California Earthquake Council (SCEC).
"This research has afforded us opportunities to travel to a variety of countries to help design and test messages, as well as to share our research," Deanna Sellnow said. "In fact, we will be traveling again to Uganda in February to work with farmers in the Bududah district and government officials in Kampala regarding self-protective actions in the case of deadly mudslides."
Deanna Sellnow is a communication professor, assistant director of the communication department and researcher at UCF. Her research focuses on strategic instructional communication in a variety of contexts including risk, crisis and health in both face-to-face and online settings. She has published her work in various national and international journals, as well as authored or co-authored several textbooks including "Effective Speaking in a Digital Age," "Communicate!" and "The Rhetorical Power of Popular Culture." She can now add UCF Luminary to her list of achievements.
The Luminaries were honored during a celebration at Leu Gardens in Orlando, which occurred during the fall semester.
"I felt both honored and humbled by the host of amazing colleagues that I stood beside as a fellow recipient," Deanna Sellnow said.
The picture, provided by the Office of Research, shows Deanna Sellnow (right) receiving her award from Elizabeth Knonoff, Ph.D., Vice President for Research and Dean of the College of Graduate Studies (left).
Published February 1, 2020. Written by Iulia Popescu.