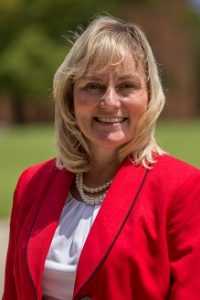 "Together, we will build a world where the accomplishments of our daughters will be celebrated, rather than diminished." As a professor in higher education, this quote by Jill Biden has significance to Dr. Deanna Sellnow, Professor of Strategic Communication in the Nicholson School of Communication and Media. In this feature of Defining Experts, Dr. Sellnow discusses her research interests, goals, and what she has learned in her field of work of instructional risk and crisis communication.
Before diving into her research, Dr. Sellnow shares that she holds undergraduate and master's degrees in music in addition to her Ph.D. She explains, "my doctoral dissertation in Education (teaching and learning theory) afforded me an opportunity to find the link between music and communication. I developed a rhetorical perspective for examining the dynamic interaction between lyrical content (words) and emotional content (music) as they function to communicate and persuade." When asked if she had achieved her goals with her research, she explains that while she achieved many, she sees goals as momentary plateaus. Once she achieves a goal, she sets a new one along her career journey.
Dr. Sellnow's journey is full of notable achievements including her dissertation titled: "Music as Communication: A Rhetorical Perspective Based on Susanne Langer's Theory of Aesthetic Symbolism," which she published an article on in Critical Studies in Media Communication, a refereed academic journal sponsored by the National Communication Association. She also published a book with Sage entitled The Rhetorical Power of Popular Culture: Considering Mediated Texts, which features the "illusion of life" perspective she developed for her dissertation.  Dr. Sellnow devotes a good deal of time to authoring or co-authoring textbooks in order to help others become effective communicators and public speakers. She wants individuals to understand that effective communication (interpersonal, group, and public) "is the key to success in any profession one may pursue. Unfortunately, communication apprehension (anxiety, fear) sometimes prohibits people from enrolling in classes designed to help develop these very skills." Therefore, Dr. Sellnow continues to revise textbooks because she realizes her impact can effectively reach so many more people around the globe. Although she isn't their teacher in a conventional sense, her textbooks fill that role for those that read them.  She looks forward to what her next steps will be and knows that life is an ongoing journey, not a destination; continuing to make a positive difference in the world is what it's all about.
One of Dr. Sellnow's research interests is instructional communication as it impacts learning (affective, cognitive, and behavioral). "My interest in this area began by focusing on classroom settings; however, I currently focus on how it functions in risk and crisis communication in health, disasters, and biosecurity." She also studies rhetorical processes in popular culture as communication, which ranges from music to advertisements to movies/tv. Her motivation for being a professor in this field stemmed from wanting to change lives in positive ways by empowering people to make informed choices and make a meaningful difference in the world. She goes on to say that "sometimes it comes in the form of mentoring a person to find their voice and use it; and other times it comes in the form of sharing research to improve health risk communication; and other times it comes in the form of working with colleagues around the world to overcome obstacles that hinder effective risk and crisis communication across time and space."
When asked about work she did with the Centers for Disease Control and Prevention (CDC), U.S. Geological Survey (USGS), and Department of Homeland Security, Dr. Sellnow went into detail about her roles in these organizations. In the CDC, Dr. Sellnow served as a subject matter expert to develop the CDCynergy Crisis Communication program. "This program was designed after the 9/11 attack and anthrax terrorism acts to train first responders to communicate more efficiently and effectively across agencies and to/with various publics." Instructional communication theory was pivotal in designing and implementing this program, and her expertise helped guide her colleagues in its development.
With the USGS, Dr. Sellnow served as the "Principal Investigator on a team charged with designing an effective earthquake early warning (EEW) system that could be delivered on a phone app when time to safety was 10 seconds or less." Additionally, she gives insight into the research she and her colleagues did to inform how to design the phone app.  "We created several versions using the IDEA model for effective instructional risk and crisis communication, which Tim Sellnow (my spouse) and I developed and refined with the help of colleagues on different projects and tested them against the existing warning system used by the California Earthquake Council." Ultimately, their findings were integrated in the app the USGS produced which included "a map to accompany geolocation, specific action steps (drop, cover, hold on) delivered visually and aurally, a timer counting down seconds remaining, and visuals and colors to accompany or replace numerical representations for intensity and magnitude."
For the Department of Homeland Security, she conducted funded research focused on designing and testing food safety messages as part of the National Center for Food Protection and Defense. She and her colleagues "began by designing and testing messages based on learning theory and learning styles as described by David Kolb and colleagues (the cycle of learning). Based on multiple studies examining food (ground beef, chicken, lettuce) contaminated with e coli or salmonella, for example, we created the IDEA model and published several articles using it since then. It is now considered a best practice for effective instructional risk and crisis communication.  She and her colleagues published the best practice article in Communication Studies, a refereed academic journal sponsored by the Central States Communication Association."
In addition to her grant-funded work with these government agencies, Dr. Sellnow has also collaborated with non-governmental organizations (NGOs) such as the International Food Information Council in which she was a part of a team of experts that went to developing countries to talk with government officials, food scientists, and journalists about agricultural biotechnology as a safe way to harvest more crops and thus feed more people. She explains that "There are so many myths around agricultural biotechnology (a.k.a. GMOs). Our goal was to debunk myths so many people have about agricultural biosecurity. Why? Because we already don't produce enough food to feed the world and the population is continuing to increase exponentially. The 7.97 billion people inhabiting earth today is projected to grow to 9 billion by 2037.  Our work took us to Delhi, India; Jakarta, Indonesia; both North and South Vietnam; Dakar Senegal; and Cairo, Egypt." Dr. Sellnow also shares that she is fortunate to be able to do such rewarding work. This multi-year project "serve[d] as the bridge for effective communication among federal agencies, journalists, farmers, and food scientists regarding a real-world issue that will save lives (food security)."
Throughout her professional journey as a Professor of Communication, Dr. Sellnow has learned a lot about tenacity and resilience. "Perhaps the most important thing I have learned is to persevere through the challenges that you will inevitably face if you believe in what you do because you know it will positively impact people and planet. When you know you are doing meaningful work, you can ultimately succeed through the trials you will inevitably face." And even through adversity, she continues to keep moving forward. What she enjoys most about her field of work is doing her part to empower people to make informed decisions regarding their health, safety, and well-being. "I love to see my students become impassioned as a result of what they learn in my classes.  I love to see my advisees rise to overcome challenges as they successfully complete their theses/dissertations and earn a master's or doctoral degree. I love to see people I work with around the world as they realize they can make a difference to protect themselves and those they care about in times of risk and crisis." And finally, when asked about what kind of impact she would like to leave, Dr. Sellnow responded that she hopes her actions could help people become better in some way. "The most rewarding thing for me is when someone says I helped them to find their voice and use it effectively, to muster up the courage to do something that matters deeply to them, and to realize their value and that—in some way—I inspired them to realize their worth."
By Majdulina Hamed.
Published to Nicholson News on September 2nd, 2022.
If you have any news, accomplishments or highlights about your work or life, please be sure to share them with us, by emailing us at NicholsonNews@ucf.edu.