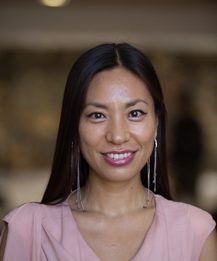 "Information technology and business are becoming inextricably interwoven. I don't think anybody can talk meaningfully about one without talking about the other." This quote stated by Bill Gates is a glimpse into what Dr. Jihyun Kim discusses in her research. Dr. Jihyun Kim is an Associate Professor in the Nicholson School of Communication and Media at the University of Central Florida. Her passion as an academic researcher has narrowed its focus over her career to the subject of how communication evolves with the addition of new technology. She discusses her goals, research, goals, and reflection on her experiences throughout her journey in an interview.
Before discussing her research, Dr. Kim talks about what made her interested in academia. As an undergrad, she was selected to be an exchange student and had the opportunity to study in the U.S. for two semesters. She took a few communication/mass media courses and enjoyed them, which in turn, allowed her to "learn the importance of education and value of academic research. After finishing my undergrad, I decided to pursue a graduate degree, so I came back to the US for MA and PhD to become a researcher and professor." In her first doctoral class, Dr. Kim read a few articles regarding fundamental and theoretical aspects of new technology and human perceptions. "These articles opened the way I view research and changed my research trajectory to this area of research." After reading these articles, she found herself asking multiple questions and reading other relevant articles in search for answers. When asked about her goals, she responded that "as a researcher, my general goal is to produce knowledge with reliable and valid scientific evidence and methods. My goal for the primary context of my research (technology) is to better understand how to maximize the benefits of technology affordances when communicating with and communicating through technology. So, I'm making continuous progress."
Dr. Kim's research interests include communicating with and through technology. "In other words, I'm interested in the role of new/communication technology as a tool but also as a digital agent, which is centered on human-machine communication. Specifically, my research investigates the effects and implications of new/communication technologies for meaningful outcomes (e.g., education, health, relationships)." She also examines the impacts of technological domains such as artificial intelligence, digital games, virtual reality, social media and the online environment. Her recent research focuses on "how human[s] perceive and communicate with AI-enabled/AI agents in various communication contexts as well as social and psychological impacts of AI from a communication perspective." Dr. Kim also adds that some of her recent and current projects include AI in education, AI in health, virtual humans, AI chatbots, virtual reality for intercultural communication, and online education. Furthermore, she also discusses that most of her research has been published in international journals. She values the implications of her research findings for academia, education, research, and theory-based influences. Through her research, she also tries to make meaningful contributions and implications that can help technology designers and developers create effective platforms and programs, which can facilitate meaningful communication, interactions, and outcomes. She states that "I am trying to reach a broad audience at an international level to share the knowledge through my work."
In addition to her research, Dr. Kim edited a book titled "Technology and Health: Promoting Attitude and Behavior Change" by inviting experts in each chapter. She explains that this book examines how technologies can be used for attitude and behavior changes for health promotion. "Specifically, it covers why and how specific technology (e.g., virtual reality, augmented reality, social media) is effective in promoting good health and also suggests how it should be designed, utilized, and evaluated for health interventions. Overall, this book synthesizes theory-driven research with implications for research and practice, covering a range of theories and technologies in the diverse health contexts."
When asked about what she has learned or reflected upon, Dr. Kim responded that "learning never stops, so I'm still learning so many things every day. Some of the great lessons that I've learned during my academic journey are importance of time management, strong responsibility, persistence, and determination. Also, 'work on the project/topic that I am genuinely interested in.'" In her field of work, Dr. Kim enjoys working with people and helping them achieve their goals. She states that "over the past several years, I have been working with many students and early career scholars that I have met at conferences and through various academic connections. Some have advanced to pursue their PhD, and some have got a job at academia as well as industry. It's such a great joy to see their success and to be part of their academic life as they move forward and achieve their goals. I love the mentoring relationships that occur organically."
Dr. Kim's advice for anyone who is interested in going into the same field mostly applies to PhD students or students who plan to be in academia. Some of the most memorable things her mentors and professors have told her include "develop strong foundation and research training, go to national and international conferences, read good research articles, and find the area that makes you excited and passionate about." Broadening your horizons and pursuing opportunities to learn and grow is key to becoming an expert in and out of academia. Just like her research interests, Dr. Kim has contributed to the field and is constantly expanding her expertise.
By Majdulina Hamed.
Published to Nicholson News on October 7th, 2022.
If you have any news, accomplishments or highlights about your work or life, please be sure to share them with us, by emailing us at NicholsonNews@ucf.edu.