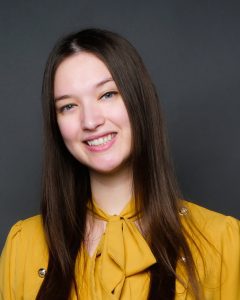 Gabrielle "Gabby" Jarmoszko, advertising instructor in the Nicholson School of Communication and Media discusses her interests in the Ad/PR field and the projects she has accomplished. Jarmoszko has been interested in all things creative since the beginning of her career. In a brief interview she talks about the impressive work that she has done and the exciting projects planned for the future. 
What sparked your interest in the AD/PR field? 
"In high school, I was the "journalism/yearbook kid." My senior year, I was the editor-in-chief of the school newspaper and yearbook staff. I knew I wanted to pursue a career where my passion for writing, design, and organization converged—and that lead me to marketing."
What projects are you most proud of?  
"Hm, I'd like to think I'm proud of all of my projects, but I've definitely enjoyed different ones for different reasons! I once helped a social media campaign for a cookie company, and throughout the entire thing, we got free samples of cookies (it was wonderful, as you can imagine). On the more academic end of the spectrum, my work in grad school and my thesis earned me the Kappa Tau Alpha Highest Graduate Ranking award, which was cool."
Are there any upcoming projects that you can share? 
"Yes! Right now, I am the Memberships Director for Ad 2 Orlando, which is the young professional affiliate of the Orlando chapter of the American Advertising Federation. Ad 2 Orlando's Public Service Project this year is creating a campaign for the Parramore District of Downtown Orlando's Heritage and Cultural festival. More about the Parramore District here and more about Ad 2 Orlando here. (We are recruiting students to be a part of the project! They can apply here)."
What are your research interests? 
"Although my primary responsibilities at UCF are teaching and service, visual communication and implicit biases are my passion! My thesis in grad school attempted to explore ways that negativity bias can be mitigated in consumer media selection processes (i.e., what can encourage people to read less bad news?). So, my answer for this question is usually "the point of convergence of visual communication and psychological implicit biases." 
What kind of work do you do with social media? 
"Vaguely, advertising! Specifically? It depends on the scope of the project. I've helped with anything from social media strategy planning for brands to content creation. "
Is there anything else you'd like to share?
"If I were to add anything, it's that I love teaching! Using my experiences and connections in industry to help prepare students for their careers is truly my passion. It sounds cheesy, but it's true!"
"Another unrelated accomplishment I'm proud of (if we can call it that?) is that I just had my first child in July. Her name is Ceci.😊 I'll attach a photo. 
I've attached some other photos, but not sure how helpful they'll be. One is me and the Ad 2 Orlando/Parramore Team at Intern Pursuit this past Monday. Another is a graphic for the Ad 2/Parramore project."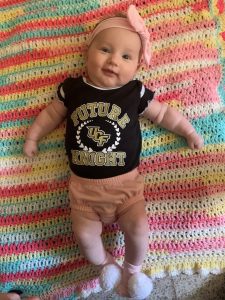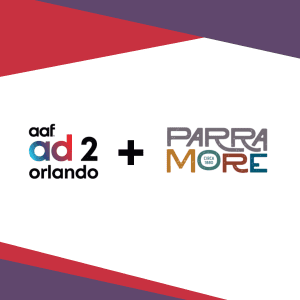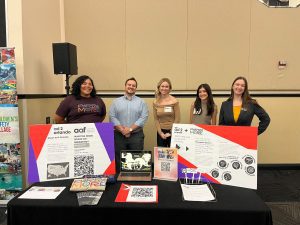 By Majdulina Hamed.
Published to Nicholson News on November 2nd, 2023.
If you have any news, accomplishments or highlights about your work or life, please be sure to share them with us, by emailing us at NicholsonNews@ucf.edu.