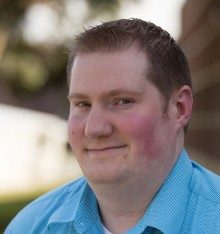 As a former speech and debate student who competed in forensics tournaments, I was particularly excited to speak with the Associate Instructor and Director of Forensics, Jonathan Conway. Conway has participated in speech and debate since high school and cultivated this interest into a professional career teaching forensics. In an interview, Conway talked about his interest in speech and debate, his research interests, and the impact he wants to leave future generations of communicators.
He shared that he competed three years in high school in student congress and extemporaneous speaking. In college, he mostly competed in speech events such as Extemporaneous, Impromptu, Persuasion, Informative, After Dinner Speaking, Rhetorical Criticism, Prose Interpretation and Duo. Despite a long track record of participating in speech and debate events, Conway did not picture himself teaching the subject after college. "At my core I still see myself as a business consultant (that's what I thought I wanted to do before becoming a coach). So, I try and learn about modern leadership theory/approaches that I can use and teach."  He states, "working with students, building a team, and engaging in making the world better is a very fulfilling endeavor. I also started realizing that my academic focus (organizational and professional communication) was very compatible with running a team."
For his research interests, Conway stated that it is geared towards team management, leadership, and culture building. It makes sense that Conway's interest in team management ties into coaching the speech and debate team, however, managing time and overseeing speech and debate is an aspect of his work that he finds challenging. In addition to this, motivation is a facet he finds challenging because, "I am very passionate about this activity and want the team and individuals to love it as much as I do. It's sometimes hard to meet people where they are, tempering my goals to align with theirs."
When it comes to accolades, Conway has an impressive resume. He coached four individuals to three national championships (they even had co-champions one year). As President of the Florida Intercollegiate Forensics Association, he led the state organization during COVID-19 and helped pilot online tournaments which gave teams and individuals the ability to participate. This expanded the tournament to better represent forensics in Florida. The number one thing Conway revealed as his proudest accomplishment was in building the speech and debate team at UCF. "Speech in particular was all but nonexistent when I arrived in 2014. It formed in spring of 2012. So, for all intents and purposes I built it from scratch, forming culture and recruitment. Now we are the number one team in the state and ranked 5th nationally as a comprehensive program in 2022."
Conway's impact that he wants to leave is helping students finding their own impact. Even though he makes it known that "as a speech and debate coach the concept of legacy and impact is always on the small scale." However, "if I can help mold them [students] to do it, then I've made the world a better place." Moreover, his advice to anyone interested in forensics is that anyone can make the choice. "Yes, some people have more barriers than others. But at the end of the day, if you are at UCF and you choose to be great, we can get you there. If you are willing to make the choice to be great, there is a spot for you here."
Upcoming plans include the Pi Kappa Delta national championship in March, which is their big focus at the moment. The speech and debate team is bringing eight or nine students and is traveling to West Chester University and are hoping to remain a top ten team at this national tournament. Conway states, "we have had national champions in debate, but we never have made a final round in speech/individual events." For 4 days, hundreds of students from 50-70 schools will be at the event, proving to be a competitive championship.
By Majdulina Hamed.
Published to Nicholson News on February 2nd, 2023.
If you have any news, accomplishments or highlights about your work or life, please be sure to share them with us, by emailing us at NicholsonNews@ucf.edu.