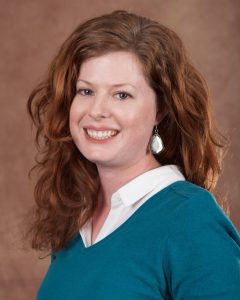 "Create your own visual style. Let it be unique for yourself and yet identifiable for others." Orson Welles, American actor, director, producer and screenwriter used this phrase when discussing filmmaking, and this idea can been seen in the work of Kate Shults. Associate lecturer in the Nicholson School of Communication and Media at UCF, Shults has produced exhibitions and curated video content in Central Florida since attending UCF as a student. She works in video and installation, exhibiting her work in film festivals, galleries, and in collaboration with live musicians. I had the exciting opportunity to ask Shults a few questions regarding her research experience, notable achievements, and her upcoming projects she has planned.
What are your research interests? And what are you working on/researching currently?
"Currently, I am developing several short films, including one that will be used to fundraise for my next feature film. I also became a mother this year and have been experimenting with filming on a baby monitor. I'm not sure where that material will lead me, but it's been a fun new tool to explore."
Can you tell me a bit more about your primary work regarding the ethos and landscapes of Florida, textures of digital images, and the use of obsolete video technology?
"Florida has always been a primary muse for me as a filmmaker and artist. I am drawn to the landscapes and wildlife but also the intersections of human development and the natural world here. There is this constant desire to tame and develop the wildness of Florida, coupled with the inevitability that this is ultimately not possible. I find this tension fruitful for both narrative films and more abstract, experimental work. I also enjoy working with outmoded consumer and prosumer cameras because they often have really interesting quirks and features that have been abandoned in the steady stream of new filmmaking technologies. There are so many fun and weird cameras laying around gathering dust! Each one brings a different aesthetic dimension to a project."
How is your experience being a film curator for Aquifer: The Florida Review Online?
"Aquifer is a fairly new part of The Florida Review, and I was honored to be brought in to develop the short film content category by former Editor Lisa Roney. Since then, we've published about a dozen experimental, poetic, and essayistic short films on the site. I love programming and curation so having an outlet for this work, while enriching UCF's media culture, is a real privilege for me."
What are some notable achievements you'd like to share?
"My 2018 short film Irma will be exhibited in a group show at the Deluge Contemporary Art gallery in Victoria, BC in Jan/Feb 2023. This gallery is notable for hosting the Antimatter Media Art Film Festival, a small but highly regarded experimental film festival."
What is your favorite project that you have worked on to date?
"My favorite projects have been the video art exhibitions that I've helped students produce over the years with the Sunspot Cinema Collective. It's a really special moment as a filmmaker to see your work exhibited for audiences, and my favorite part of teaching here at UCF is being able to facilitate that experience for our students."
What aspects of your work do you find challenging?
"There are so many opportunities and resources here at UCF and in Central Florida, you really have to be careful how you spend your time and energy. There is so much I would like to do and so little time!"
What advice do you have for aspiring film makers/curators out there?
"Keep making work. That's really it, just keep making work and the opportunities will arise. Don't wait for validation or to know yourself better, just make the films you are compelled to make with whatever resources you have. Easier said than done, I know, but this advice has carried me through my career in powerful ways."
By Majdulina Hamed.
Published to Nicholson News on December 1st, 2022.
If you have any news, accomplishments or highlights about your work or life, please be sure to share them with us, by emailing us at NicholsonNews@ucf.edu.