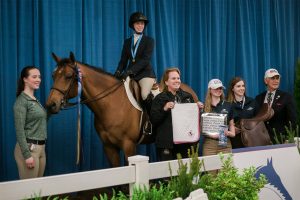 Molly Murtha recently won UCF's first equestrian national championship title at Intercollegiate Horse Shows Association's National Championship Horse Show in Harrisburg, Pennsylvania.
She took home the title in the individual novice equitation on the flat category, which is one of the most difficult individual titles to win at the championships because of the size of the competition field. In the division, riders must use a horse assigned to them and are judged on their ability to drive or restrain the animal. Murtha competed against 16 other riders vying for the judges' scores.
"The hardest part is figuring out the horse quickly and effectively since every single one is different," says Murtha, who is a member of UCF's equestrian team. "And you only have about five minutes to show [to the judges] that you know what you're doing and look good doing it."
The digital media major, who is focusing on web design, began riding when she was 5. In 2017, she transferred to UCF from Savannah College of Art and Design, which has a nationally known equestrian program, halfway through her second year.
"I found a good program at UCF that I wanted to be in and it was definitely easy going back to my hometown team," says Murtha, who is an Apopka, Florida native. "I really couldn't be happier to be a Knight."
Murtha has only one more year of eligibility on the team. She plans to compete next year in the intermediate flat division, which incorporates fence jumping. She credits the UCF sport club's experience for helping her to set up a great support system.
"[Joining a sport club] is a great way for you to not only make friends for life but to get to ride and share the same passion together," she says.
With 33 national team or individual titles since 2002, UCF has one of the most successful sport club programs in the nation.
Photo: Molly Murtha