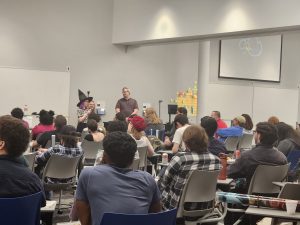 Faculty in the Gaming and Interactive Media program at the Nicholson School of Communication and Media continue to make strides in their work and creative endeavors. Dr. Natalie Underberg-Goode, Professor and Assistant Director of GaIM, highlighted what is happening with gaming during the summer. "During summer we teach the courses that are most in demand by our students, in order to help them graduate on time. In addition, our many faculty are busy doing their research or creative work and preparing to teach courses in Fall."
In addition, students had the opportunity to showcase their talents in a recent digital media showcase. Web design students showcased their projects in room 165 and were on hand to talk about them to visitors. Game design students showed their game projects in CMB 182 A and B through trailers, brief team presentations, and in the Maker Space, their game artwork displays. Underberg-Goode also gave a shout out to those who organized the event. "My colleagues David Negrin, with able help from Jordan Lipscomb and Ketwana Smith, organized a stellar games showcase, and Dan Novatnak and John Murray did a wonderful job coordinating the web showcase," said Underberg-Goode.
The video game showcase was livestreamed and is available here: https://www.twitch.tv/dnegrin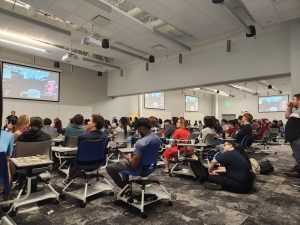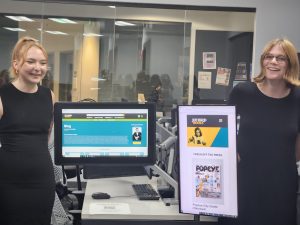 Photos courtesy of Dr. Natalie Underberg-Goode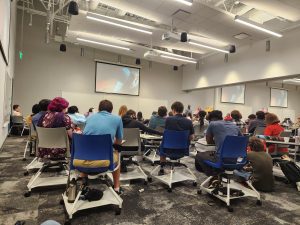 By Majdulina Hamed.

Published to Nicholson News on June 1st, 2023.

If you have any news, accomplishments or highlights about your work or life, please be sure to share them with us, by emailing us at NicholsonNews@ucf.edu.