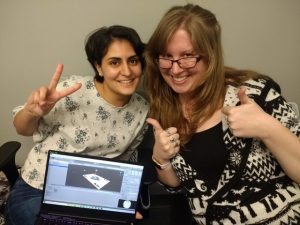 Maria Harrington, Ph.D., an assistant professor in the Nicholson School, has been working closely with the Orlando Museum of Art (OMA).
It all started after Harrington discovered that most of the graduate students in her spring 2019 class had never been to a museum before. She decided to expose them to the wonders of the Orlando Museum of Art.
One of Harrington's Ph.D. students, Jesslyn Parrish, was constructing a digital timeline as her project at the time, which could be of aid to the museum.
Harrington worked with David Matteson, associate curator of education and outreach, who recently received grant funding from Art Bridges, an initiative out of the Crystal Bridges Museum.
Thanks to the support, Parrish will begin a paid internship with the Orlando Museum of Art starting this month, which will also help her continue the development of the class project.
"Jesslyn will be working with us to develop a virtual timeline featuring works in the museum's permanent collection of American art," said Matteson. "In [Harrington's] class, the museum was the students' client. Each student developed a prototype of a digital application that enhanced our collection and the visitor's experience. We are so excited to work with Jesslyn to develop her initial idea into an engaging tool that will benefit student visitors for many years to come!"
Harrington, alongside Matteson, worked diligently to bring everything together for Parrish – much like pieces of a real-life puzzle.
"Together, we harnessed available resources, aligned them, and maximized the result," Harrington added. "It would not have worked without David and Jesslyn both being excellent in everything they do.  I always seek to align interests, values, and complementary skills with excellent people."
The project is a digital timeline that is meant to blend art with American History.
"My hope was that placing the artwork into its historical context would perhaps catch visitors' interest in terms of 'oh, this artist painted this during the abolitionist movement, and were representing their stance on it – I wouldn't have thought of this' in order to create deeper connections for children and adults that visit OMA," Parrish said.
Parrish's previous background is in anthropology and applied linguistics with research focusing in Deaf culture. She is a language fanatic – dabbling in ASL, Spanish, Arabic, Mandarin Chinese, and Japanese – and she is now learning how to code.
Parrish loves how coding is a language that, like ASL, doesn't require spoken word or perfect hearing in order to learn and apply it.
Parrish is in UCF's Texts & Technology Ph.D. program – in the Digital Media track. She is set to graduate in 2022, and is pursuing a Ph.D. to transition into a career in the tech world. She hopes to combine all her passions together one day.
"This internship means a lot to me," Parrish said. "I'm very critical of my work and rarely think my work is up to par – it means so much to me that Dr. Harrington, David and the team at OMA thought my timeline would be an effective tool for students."
Professor of educational psychology and program coordinator for UCF's education doctorate in Curriculum and Instruction, Michele Gill, Ph.D., provided an educator's point of view on the importance of these types of internships.
"Student internships provide real world, authentic problem-solving experiences that are the gold standard for producing transformative learning experiences for students," said Gill. "Further, such local internships further UCF's commitment to creating partnerships that improve the health and well-being of the region."
Harrington is an assistant professor of digital media at the Nicholson School of Communication & Media and director for The Harrington Lab. Her main medium is immersive environments, specifically augmented reality (AR) and virtual reality (VR).
Matteson is in the T&T Ph.D. program as well and took Harrington's class in spring of 2019. He works at the Orlando Museum of Art and helped make this internship a reality.
The mission of the Orlando Museum of Art is to inspire creativity, passion and intellectual curiosity by connecting people with art and new ideas. The Orlando Museum of Art is helping to do just that with the recent paid internship they have offered UCF student Parrish.
Not quite ready to venture out yet? Orlando Museum Art invites the public to also #museumfromhome. Enjoy videos from the team at OMA, a coloring booklet and virtual art tours from around the world on their website.
Published July 1, 2020. Written by Iulia Popescu.
If you have any news, accomplishments or highlights about your work or life, please be sure to share them with us, by emailing us at nicholsonews@ucf.edu.