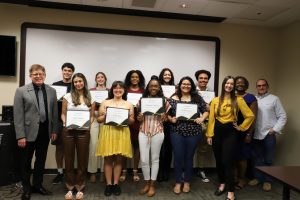 On Friday, April 7th, NSCM held its first Director's Honor Roll Luncheon here on the Main (Legacy) Campus, from 12:00pm – 2:00pm, in NSC 228.  Dr. Littlefield invited the top performing students from those who have earned this honor to a lunch and share, and we are hoping to capture moments from this event for our social media.
The invitees have been asked to be prepared to share their NSCM academic journey thus far, including such things as: what has gone well for them within their degree program; reflection on the level of support they have received in achieving their academic goals; suggestions for improving the NSCM experience for themselves and future students; and any other topics believed beneficial to student success.
By Majdulina Hamed.
Published to Nicholson News on May 5th, 2023.
If you have any news, accomplishments or highlights about your work or life, please be sure to share them with us, by emailing us at NicholsonNews@ucf.edu.