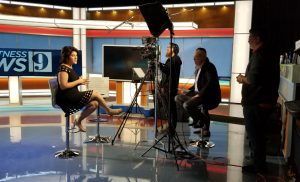 A documentary created by Nicholson senior instructor Rick Brunson, titled "Journalism Ethics: A Morning with Nancy Alvarez," just won a prestigious 2020 Telly Award.
Brunson has always been passionate about ethics in journalism. He recently decided to team up with colleague and producer Aaron Hosé from UCF and WFTV Channel 9 anchor/reporter Nancy Alvarez to create a powerful, short documentary.
"Journalism Ethics: A Morning with Nancy Alvarez" shows the tireless work of WFTV Channel 9 anchor/reporter Alvarez. In the video, Alvarez recounts covering the devastation of the Pulse shooting in Orlando and Hurricane Maria in Puerto Rico.
Alvarez's experiences provide numerous teachable moments for future news professionals, with an emphasis on the importance of ethics in journalism.
Their documentary won a 2020 Telly Award in the Online Documentary category. The theme for this year's awards was "Telly Awards Tell Great Stories." Brunson, Hosé and Alvarez certainly do tell a great one.
"The documentary touches on some of the most important ethical imperatives of journalism: seeking and reporting truth, holding the powerful accountable, being a voice for the voiceless and how that all begins from an attitude of humility and empathy," said Brunson. "We must ask tough questions of those in power because we have access to them, and we must use our voices to amplify the voices of those who have none. That's what journalism is about – and that's what Nancy does, which is demonstrated in this documentary."
The video was developed and produced by the UCF Center for Distributed Learning, where Hosé works as a Lead Video Producer.
Hosé is the field producer and editor on the documentary. He is a graduate of the Valencia College Film Technology Program, earned his Bachelor of Arts Degree in Liberal Studies from the University of Central Florida and is currently pursuing his Master in Fine Arts in Feature Film Production from the Nicholson School of Communication and Media (NSCM). He has been with UCF since 1999.
As lead video producer for UCF's Center for Distributed Learning, Hosé manages the production of engaging, custom-made HD video content for the web and e-learning applications.
Hosé grew up wanting to design special effects for movies and video games, but after college, his interests began moving towards documentaries. When Brunson approached Hosé about his idea for the short documentary, Hosé was immediately on board.
"Rick is truly a one-of-a-kind faculty who cares about his students and the education they receive," Hosé said. "When he first approached me about making this video for his Principles of Journalism course, I knew in my gut that we would have great content to work with."
Brunson, who is executive producer of the documentary, conceptualized the story, wrote the script, conducted the interview and gathered archival footage. He teaches reporting, editing, principles of journalism, broadcast journalism and online journalism, as well as magazine production in the Nicholson School's journalism program. He serves as the instructor/adviser for NSCM's award-winning magazine, Centric, and advises NSCM's chapter of the Radio Television Digital News Association. In addition, he serves on the editorial advisory board of UCF's official magazine, Pegasus.
When Brunson is not in the classroom, he's in the newsroom. Brunson, who recently marked 35 years of professional experience as a working journalist, also serves as the writing coach at WFTV Channel 9 Eyewitness News since 2012.
Through Brunson's work with WFTV, he was introduced to Alvarez, whose dedication to practicing ethical journalism stuck out to him.
"Principles are only legitimate and authentic to the degree that they are actually lived and practiced," Brunson said. "Ethics listed on a poster, in a textbook or even in a creed mean nothing unless they are lived out in real life. Nancy is the embodiment of that authenticity. When it comes to practicing ethical journalism, she's the real deal. I wanted to throw a spotlight on her work and give my students someone tangible to be inspired by and aspire to. I know she inspires me. I tell her all the time, 'I want to be Nancy Alvarez when I grow up.'"
To view their retrospective documentary, which was nominated for an Emmy and recently received a 2020 Telly Award, click here.
Published July 1, 2020. Written by Iulia Popescu.
If you have any news, accomplishments or highlights about your work or life, please be sure to share them with us, by emailing us at nicholsonews@ucf.edu.