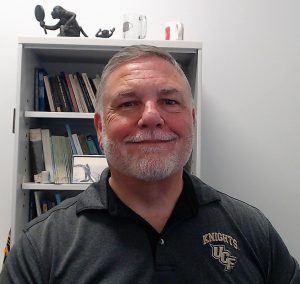 Chocolates, stuffed animals, and bouquets of flowers are displayed at the front of grocery stores as soon as you walk in, and you are once again reminded that it's February which means that Valentine's Day is right around the corner. Personal and romantic relationships and couples' interactions are a few of Dr. Harry Weger's research interests and has published journals and articles on the subject. Weger, a Professor and Assistant Director of Communication Programs, gave valuable insights into his research as well as tips on relationship satisfaction, and advice about how to improve relationships.
Certified in teaching two different relationship education curricula, the Practical Application of Intimate Relationship Skills (PAIRS) and the Prevention and Relationship Education Program (PREP) marriage education courses; he mentions that he taught these courses through the UCF Marriage and Family Research Institute for about five years. His research consists of how couples resolve conflicts as well as the strategies used while arguing to influence their level of satisfaction during a relationship. He adds that, "I have also published studies with students that examine LGBTQ+ partners, platonic opposite sex relationships, and friends with benefits relationships." Interestingly enough, Weger also mentions that the well-known five love languages actually have no real scientific validity. In fact, it begs the question of whether people should have one set way of being loved. "That said, people do have some general preferences, but they may not necessarily remain the same over time or fit into a particular category." Weger also emphasized that it is important to actively do things to make their partner feel special, understood, appreciated, and loved.
Whether you are single or in a relationship, individuals may often find themselves facing pressure to either outdo their partner with gifts or needing to explain to others that the single life is where it's at. Weger also recognized this issue by affirming that some people may feel left out. "It isn't much fun to be reminded that you don't have a partner if you are single so it brings up lots of emotions that can be difficult to deal with." Treating yourself and having a Galentine's party with your friends is a great idea and Weger points out that men should have a day like this too. Couples, especially new relationships, may feel pressured to making the day/night special with their significant other. Weger advises to "remember to keep a sense of humor and be willing to make adjustments" as well as to keep in mind that some plans can go sideways so keep things in perspective.
When asked about questions to ask someone you would be interested in, Weger gave the following examples:
"What would constitute a perfect day for you?"
"Is there something you've dreamed of doing for a long time?"
"If you were to die this evening with no opportunity to communicate with anyone, what would you most regret not having told someone? Why haven't you told them yet?"
Weger references research designed by psychologist Arthur Aron to help learn how self-disclosure is related to attraction. Anyone can obtain access to Aron's list of 36 questions by searching through Google and YouTube. Weger states, "This is something you can do with a stranger, but it is also a great way to spend some time on Valentine's Day connecting with your partner. You will learn things about them that can deepen your connection."
Weger also offered his perspective on relationship satisfaction in which two important factors include conflict management and building admiration and respect for one another. "What we know is that blaming the partner for a problem, withdrawing from disagreements by giving the person the silent treatment, and communicating in a way that is disrespectful can erode the good feelings we once had about a person. This is true in romantic relationships, friendships, and family relationships as well." Additionally, "One way satisfaction is built is by paying attention to your partner when they make a bid for connection. It is the accumulation of small moments that seem insignificant on their own but have a big impact. [American psychologist John Gottman] calls this "turning toward" a partner when they try to connect." So, finding ways to work through conflicts by not blaming or shutting each other out and connecting in big and small moments alike can help relationships thrive.
Weger also brought up a great source of additional information about relationships. "Rachel Vanderbilt, one of our MA program graduates, who received her PhD in communication from Penn State does public education about relationships and you can find her at https://www.rachelvanderbilt.com/relationship-doctor-podcast. She does a wonderful job of taking on these myths by explaining what the science of relationships has to say about these topics.  She's also on TikTok."
By Majdulina Hamed.
Published to Nicholson News on February 2nd, 2023.
If you have any news, accomplishments or highlights about your work or life, please be sure to share them with us, by emailing us at NicholsonNews@ucf.edu.