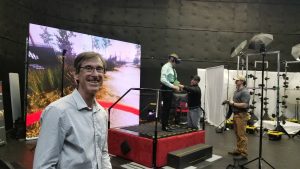 Dr. Maria Harrington, an associate professor at the Nicholson School of Communication and Media, is interested in how humans respond and grow to understand the world around them. She has been very active in making virtual worlds more and more realistic. In an interview, we sat down with Dr. Harrington to talk about her latest project: researching the learning impacts of immersive informal learning applications using game engines, augmented and virtual reality.
More specifically, Dr. Harrington focuses on the factors that drive us to learn, explore and discover the ever-changing world of nature. She mentions that to fully understand is what drives curiosity and that outcomes result in learning. You can also evaluate your environment and how it makes you feel, for instance, if it is beautiful then it can bring a sense of calm and peace. Environments, real or virtual, can cause behavioral changes, and this is something that she wants to investigate and share. Designing something that expresses creativity is their intention as well as the human reaction and senses to it.
Dr. Patrick Bohlen, a professor in the Biology Department and past director of the UCF Arboretum worked with Dr. Harrington to make a map of all the plants and population. They took a sample of native plants found in the 10 natural communities as well as data and population densities to recreate a large, 247 acres, geospatial representation of the real UCF Arboretum, in the Epic Games Unreal Engine. Because we experience the world through our senses, this simulation stimulates us in the same ways, and may in part be used to explain our responses to the natural world, how natural environments can be understood for reducing stress, and improving creative problem solving. Health and well-being are an important component of the study partnered with the Department of Psychology. The lab is set up on a tread mill and can work with a VR headset.
Dr. Harrington worked with John Miner in the Legal Department to obtain a Legal Education Licensing Agreement for a small Orlando startup company, M3DVR. The CEO Matthew Hogan had an Infinadeck Omnidirectional Treadmill and was looking to demonstrate a large open world at I/ITSEC 2021. It was a perfect match. Recently press has covered the story in Orlando Business Journal and Fox News.
She compares it to the movie "Ready Player One" because it feels like you're really there. Recently, Dr. Harrington took her graduate students to a field trip to experience the omni directional treadmill at M3DVR, where the company demonstrated the equipment to the students. She is currently supporting a graduate student to run a pilot study for his theses investigating immersion and embodiment impacts of different VR configurations.
Edited by Dr. Maria Harrington.
By Majdulina Hamed & Katie Coronado.
Published to Nicholson News on November 1st, 2022.
If you have any news, accomplishments or highlights about your work or life, please be sure to share them with us, by emailing us at NicholsonNews@ucf.edu.