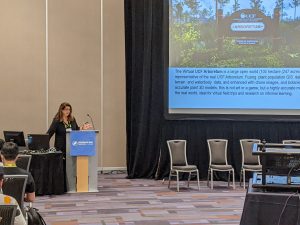 Dr. Maria C. R. Harrington, an Associate Professor of Digital Media in the Nicholson School of Communication and Media, was recently invited to present her work in person at ACM SIGGRAPH 2022 conference in Vancouver, Canada as a round table overview and interactive discussion. ACM SIGGRAPH is the international Association for Computing Machinery's Special Interest Group on Computer Graphics and Interactive Techniques.
At the conference, Dr. Harrington presented a course on virtual nature as a digital twin. The course is a long, almost 3 hour lecture, on methods and processes of creating virtual nature models from GIS data and botanically correct plants. Two methods were covered, one low polygon ideal for AR and VR, and one high polygon using photogrammetry, Reality Capture, and Unreal 5. She also co-published this course with two UCF students, one Chris Jones a GaIMs undergraduate, and one Crissy Peters a FIEA graduate student.
Maria Harrington | SIGGRAPH 2022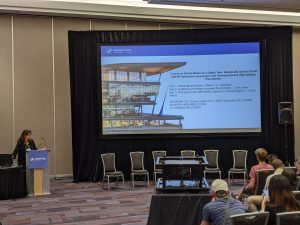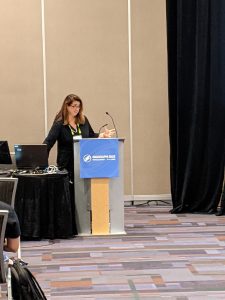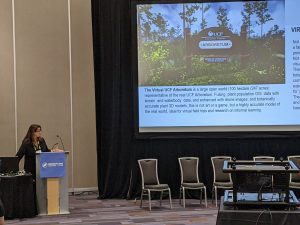 By Majdulina Hamed.
Published to Nicholson News on September 2nd, 2022.
If you have any news, accomplishments or highlights about your work or life, please be sure to share them with us, by emailing us at NicholsonNews@ucf.edu.