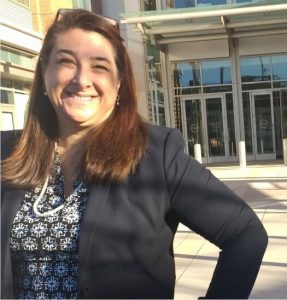 Dr. Maria Harrington, associate professor at NSCM, will be presenting the Virtual UCF Arboretum as part of a seminar series at the University of Pittsburgh. The Department of Informatics and Networked Systems (DINS) is a hub for research, education, and innovation at the confluence of information, networks, and human cognition, perception and behavior.
"The Virtual UCF Arboretum is an immersive embodied experience similar to a real field trip used to understand human interconnectedness with nature, emotions, informal learning, beauty, perception, and shifts in attitudes. Dr. Maria Harrington, Associate Professor of Digital Media at the University of Central Florida, leads research projects focused on methods of modeling and visualizing natural environments and their use in immersive informal learning application design, development, and evaluation. She uses methods of geospatial data visualizations in Unreal Engine to create immersive embodied experiences using augmented and virtual reality. Her research studies investigate informal learning, human emotional and behavioral responses, and impacts on shifts in attitudes. Her research is transforming the way people perceive and understand the natural world" – description from the DINS Seminar Series page.
By Ryan Fox.
Published to Nicholson News on October 6th, 2023.
If you have any news, accomplishments or highlights about your work or life, please be sure to share them with us, by emailing us at NicholsonNews@ucf.edu.