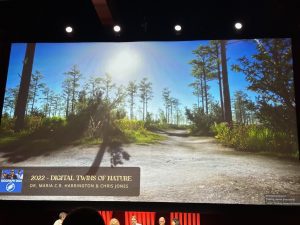 The ACM SIGGRAPH community is a global nonprofit organization serving the evolution of computer graphics and interactive techniques. This year, they celebrated the 50th conference in Los Angeles. Dr. Maria Harrington, Associate Professor at the Nicholson School of Communication and Media, shares that The Virtual UCF Arboretum was featured in the ACM SIGGRAPH 2023 50th year Electronic Theater event, also known as one of the best in international computer graphics. Check it out here: https://photos.app.goo.gl/nW1XE21mUCSCdaYL7.
Furthermore, work on the GAP fund for The Virtual UCF Arboretum version 2.0 using Epic Games Unreal Engine 5.0 is about to be launched on the Epic Games Unreal Engine Marketplace this fall. See more about it here: https://youtu.be/r9I0XuI6NmY.
Also, an independent film production of a documentary on Longleaf Pine (LongLeaf Forever) for the Georgia Department of Natural Resources using a T.E.R.N. grant has requested use and licensing of the 3D model from The Harrington Lab at UCF to use in the film. Harrington remarks that "the end use of the documentary is for Georgia DNR and the LongLeaf alliance to increase public awareness, for education and not for commercial use."
The link to the teaser for the documentary for reference: https://www.youtube.com/watch?v=RgyTd45x0yQ)
The link to their production company's website: https://www.magickumquatproductions.com/
Congratulations Dr. Harrington!
By Majdulina Hamed.
Published to Nicholson News on September 12th, 2023.
If you have any news, accomplishments or highlights about your work or life, please be sure to share them with us, by emailing us at NicholsonNews@ucf.edu.