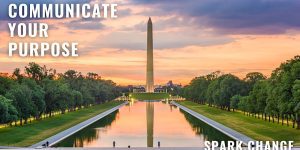 "Be the change you wish to see in the world" is a quote that Maeven Rogers and Dr. Michelle Dusseau live by. Rogers, Chief Sustainability & Resiliency Officer for the city of Palm Coast, is an advocate and professional who has worked alongside the City of Orlando, Orange County Government, & the City of Palm Coast to push environmental/public initiatives forward at the local level. Dusseau, Associate Professor at the Nicholson School of Communication and Media, integrates her desire for social equity and bridgebuilding change agency for positive relationship maintenance into every course she teaches.
Led by Rogers and Dusseau, the event "Communicate Your Purpose" took place on May 20th. The purpose of this public workshop was to empower and provide the communication toolkit to advocate for your own change. Additionally, this event highlighted how essential it is to effectively communicate our need for change and taking a deep dive into understanding the power of language and delivery. This workshop also brought exciting opportunities together such as community engagement and bringing together members of Central Florida. It also offered opportunities for current UCF students to experience engagement with alumni and leaders at UCF. Rogers also believes this workshop is the start of something great and is excited to bring more future workshops like this to the community.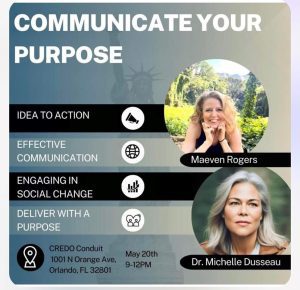 Photo courtesy of Katie Coronado
By Majdulina Hamed.
Published to Nicholson News on June 1st, 2023.
If you have any news, accomplishments or highlights about your work or life, please be sure to share them with us, by emailing us at NicholsonNews@ucf.edu.