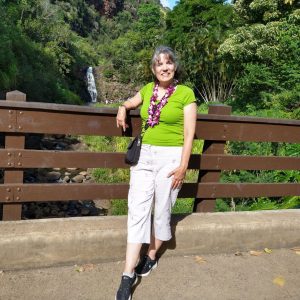 Dr. Sally Hastings, Professor at the Nicholson School of Communication and Media, had the exciting opportunity to attend and present a paper in Honolulu, Hawaii at the World Communication Association (WCA) conference. Dr. Hastings' research interests include the study of communication and bereavement and communication processes involved in marginalization. Her paper titled, "Bereaved Parents Telling "Civilians" about Their Children: When the Winds of Communication Become a Cat 5 Hurricane" was the research she presented at the conference. 
 The WCA conference takes place every two years to facilitate intercultural dialogue, ensure and support research, teaching and the practice of communication in all forms and circumstances. 
By Majdulina Hamed.
Published to Nicholson News on August 2nd, 2023.
If you have any news, accomplishments or highlights about your work or life, please be sure to share them with us, by emailing us at NicholsonNews@ucf.edu.