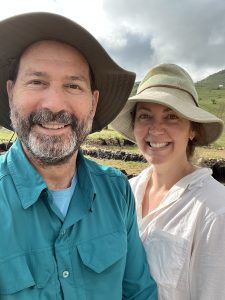 Summer is the perfect time for traveling and new adventures. Dr. Tim Brown, Associate Professor at the Nicholson School of Communication and Media and his fiancé, Dr. Amanda Groff, a Senior Lecturer in Anthropology at UCF recently traveled to Kerkenes, in Central Turkey. They were there for an excavation project Groff was conducting with project director, Dr. Scott Branting.
The site is 2500 years old and is unique because it was a planned city on a mountain top that was built out of granite and home to several thousand of people. However, it was only there for 100 years until it was all demolished. Since then, archaeologists and historians had the opportunity to excavate the site to discover life at that time.
Although this was an anthropology project, Dr. Brown was able to shoot video and produce stories in Turkey. He said, "I've been somewhat jealous of my good friend Rick Brunson as well as my film colleagues, who get chances to tell stories with students. Rick's voice was in my head, and I just jumped in and started shooting video. That led to a couple of great projects, including a couple of stories and some "proof of concept" videos."
Dr. Brown expressed that he has a newfound respect for his anthropology colleagues and was thrilled to be part of Dr. Groff's world. "She's an extraordinary online teacher, but it was also really fun to see her work with students in the field, helping them grow as archaeologists and scientists. She always does amazing work, and this was no different." Brown is ecstatic about going back to Turkey one day, and hopefully next time with students as more opportunities grow.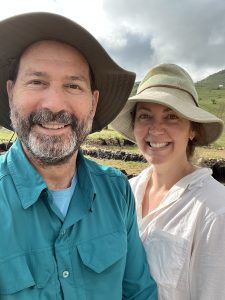 Dr. Tim Brown, NSCM (L) and Dr. Amanda Groff, Anthropology (R) (courtesy Dr. Scott Branting).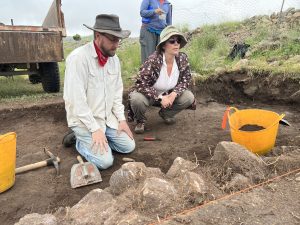 Dr. Scott Branting, Anthropology (L) and Dr. Amanda Groff (R) look over progress on an excavated wall at the Kerkenes Project.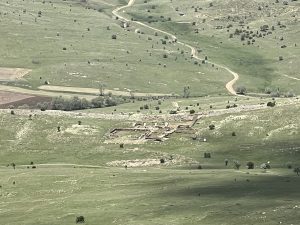 A view from the top of Kerkenes Mountain to the current site of excavation by UCF archaeologists.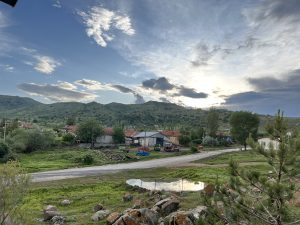 A view of Kerkenes mountain at sundown.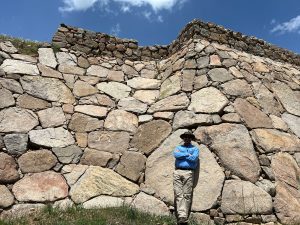 Dr. Tim Brown at the foot of the main gate at the top of Kerkenes Mountain. Yup.. that's all granite behind him… all 25 feet high!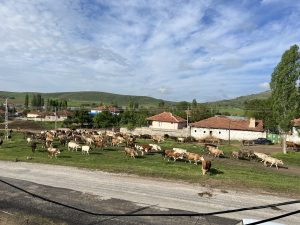 Livestock from the village of Sahmuratli, after grazing on the mountain all day.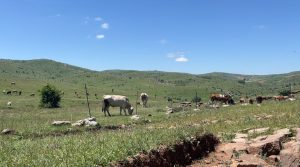 Livestock from Sahmuratli grazing outside the excavation site.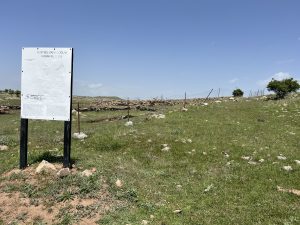 A sign in front of the current excavation site, letting tourists know the history behind the site.
By Majdulina Hamed.
Published to Nicholson News on August 2nd, 2023.
If you have any news, accomplishments or highlights about your work or life, please be sure to share them with us, by emailing us at NicholsonNews@ucf.edu.