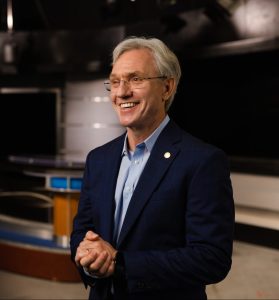 Knowing what to say in a time of crisis is a difficult proposition, but can heavily impact how communities can respond and recover to tragic events. Last month, an award-winning journalist and UCF alumnus was the victim of a tragic shooting. This devastating news took a toll on the people at the Nicholson School of Communication and Media especially with interviews taking place and students being unsure about continuing in the field of journalism.
"The right words at the right time saves lives," is the philosophy that Dr. Timothy Sellnow, Pegasus Professor and Associate Director of Graduate Studies, teaches and studies in his research. As an expert in risk and crisis communication, Dr. Sellnow offers some words of advice on how to deal with crises that happen, especially close to home.

What are some tips/strategies that NSCM can implement in times of crisis?
"Crises, by their nature, create a seeming contradiction where audiences want or need clear information during times when such information remains unknown. The best response is for organizations to share what they know, admit what is still unknown, and pledge to continue providing additional information as soon as it is known. Audiences get most upset when organizations share unconfirmed speculation that must be retracted later, or wait to share what information they do know at the time. Saying "no comment," for instance, is indeed a powerfully negative comment. NSCM followed this best practice extremely well during the crisis."

How can we be better prepared in times of crisis?
"Key steps for crisis preparation include:
Know the kinds of issues in advance that could turn into crises. We can't predict a crisis, but we can observe our environment and similar universities to know the kinds of crises that can develop.
We can plan ahead to realize who should be involved in quickly forming a crisis response.
We can know in advance that people will want to know three things:

An explanation of what is happening and why.
Who is affected and who might still be at risk.
How to keep themselves and their audiences safe if they are at risk, how they can physically or financially help those impacted, or how they can share their compassion with those who are suffering.

At all times we should remember that people facing crises don't care how much we know, until they know how much we care."
By Majdulina Hamed.
Published to Nicholson News on April 3rd, 2023.
If you have any news, accomplishments or highlights about your work or life, please be sure to share them with us, by emailing us at NicholsonNews@ucf.edu.