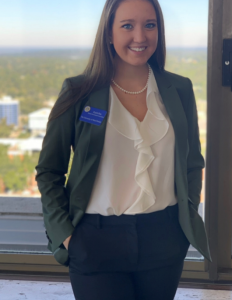 Two Nicholson School of Communication and Media students, Kayla Rau and Jessica Siles, have been accepted into the prestigious Legislative Scholars Internship, which the University of Central Florida (UCF) established in 2005.
UCF created the internship to provide students with insight into the workings of state government and the Florida Legislature.
Kayla Rau is ecstatic about the experience. She will be working for Representatives Scott Plakon and David Smith, both in Seminole county.
Rau is a new transfer student who was admitted in to the Advertising and Public Relations (Ad/PR) program in Fall 2020 and is set to graduate Fall 2022. She began as a Communication major in the University of West Florida where she was heavily involved with the Student Government Association (SGA).
When she was involved with SGA, she did event planning, and attended the Rally and Tally lobbying event for students held at the Capitol every year, which initially sparked her interest in politics.
"We advocated on behalf of 400,000 college students in the state of Florida and talked about issues like sexual assault awareness, lowering the textbook tax and homelessness for college students," said Rau. "That event made me more passionate about politics and lobbying. It's a high honor to be able to advocate for students and groups. It's very important that we use our voices."
Rau was drawn to UCF for its competitive Ad/PR program, so she decided to transfer. She was scrolling through UCF Facebook groups when she saw a post about the internship and decided to apply. This will be her first internship.
"I am very excited to be a new Knight," Rau said. "I also want to attend law school one day. I'm super excited to have a great mentor that works in the Capitol because it's a dream of mine to work there one day, so this internship is perfect."
Rau is passionate about many things – in addition to advocating for others, she is an organ donor and also dreams about starting a nonprofit for organ donation.
Normally, the students would be traveling to Tallahassee for the internships, but due to the spread of COVID-19, they will be virtual this time around.
To be eligible for the internship, students must be a junior, senior or graduate student in a communication, legal studies, political science or public administration academic program.
Successful candidates exhibit characteristics such as strong communication skills, an interest in or knowledge of the legislative process and a demonstrated ability to work with others in a fast-paced environment.
Published February 1, 2021. Written by Iulia Popescu.
If you have any news, accomplishments or highlights about your work or life, please be sure to share them with us, by emailing us at nicholsonews@ucf.edu.