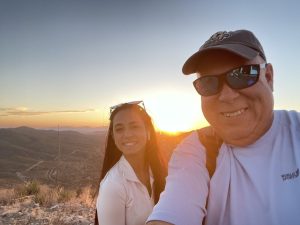 Amy Diaz, a journalism major at the Nicholson School of Communication and Media and political science major Ian Rodriguez were featured on WKMG News 6's "Fourth Estate" podcast where they were interviewed by WKMG anchors Matt Austin and Ginger Gadsden. Professor Rick Brunson, Senior Instructor at NSCM mentions that Diaz and Rodriguez were two of the six UCF students who were on the trip to El Paso this summer as part of the "Break For Impact" documentary shoot that was sponsored by UCF's Pegasus Innovation Lab and Center for Distributed Learning's Digital Curriculum Initiative. The six students were from different academic programs and disciplines: journalism, political science, sociology, criminal justice, international and global studies, among them.
A link to the podcast can be found here:
https://www.clickorlando.com/podcasts/2023/08/11/opportunity-for-a-better-life-ucf-students-share-emotional-trip-to-us-mexico-border/?fbclid=IwAR21j3Op6z0cKV9Bt5h4EMlGMgnEzjv7gOfBBLV7zkrYk39CtyLEiuB0Tyo
By Majdulina Hamed.
Published to Nicholson News on September 12th, 2023.
If you have any news, accomplishments or highlights about your work or life, please be sure to share them with us, by emailing us at NicholsonNews@ucf.edu.