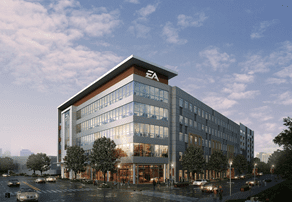 Five months prior to the expected opening of its new studio at the Creative Village in Downtown Orlando, Electronic Arts (EA) has already started fulfilling its promise to establish cradle-to-career pathways for underrepresented talent with the launch of an endowed scholarship at the University of Central Florida (UCF).
One of many initiatives in a multifaceted strategy to empower students from underrepresented communities to explore successful careers in fields of art and technology, the EA Inclusion in Gaming Endowed Scholarship will encourage the pursuit of video game industry careers for students in interactive entertainment and gaming programs at UCF.
Available starting fall 2022, two Inclusion in Gaming awards will be distributed annually to students in the Nicholson School of Communication and Media, who demonstrate how they have overcome adversity or are striving for the inclusion of others. This new award increases access to premier gaming programs for underrepresented students.
The scholarship was established with an initial investment of $100,000 and a commitment to continue growing the fund with future investments.
"The 'Inclusion in Gaming' scholarship builds upon the great relationship we have with UCF and increases access to opportunities for electronic artists of the future," said Daryl Holt, vice president and general manager, EA Tiburon (Orlando), EA SPORTS Austin and EA SPORTS Madrid. "As we move into the Creative Village and our partnerships evolve, we're hopeful to spark a collective effort by the Orlando community to educate and prepare underrepresented youth for success in STEAM fields."
Evidenced by its recent recognition among recipients of the Orlando Business Journal's 2021 Diversity in Business Awards, the Inclusion in Gaming Endowed Scholarship is one of many measured steps EA is taking to make a difference at its Orlando studio, EA Tiburon and in the community.
Indeed, partnering with City of Orlando Commissioner Regina Hill, EA has also begun outfitting local community centers with new electronics and gaming consoles.
With these actions, EA aims to inspire interest in video games and interactive entertainment; inform students how to fundamentally realize their dreams through STEAM education; bridge gaps by creating fair opportunities for diverse groups to engage as well as invest time and financial resources in opportunities that empower students through education.
Undergraduate-level scholarship applicants must be majoring in digital and interactive media/gaming in the Games and Interactive Media Program.
Preference for the undergraduate-level award will be given to graduates from Jones High School, Evans High School and Oak Ridge High School – Title I schools with the highest percentages of poverty in Orange County.
Graduate-level scholarship applicants must be seeking a degree in the Florida Interactive Entertainment Academy (FIEA).
"Close industry partnerships like the one we have had with EA for many years are critical to our students' success," said Ben Noel, executive director at FIEA and director of innovation and partnership at the Nicholson School. "We share EA's commitment to developing diverse and inclusive game makers, and this generous gift will allow us to support underrepresented students in perpetuity."
EA Tiburon already employs many FIEA graduates on its game development teams. As more underrepresented candidates are empowered with resources to join the program, EA hopes to benefit from a highly skilled workforce from backgrounds representative of its 450 million registered players worldwide.
Published July 1, 2021. Edited by Iulia Popescu.
If you have any news, accomplishments or highlights about your work or life, please be sure to share them with us, by emailing us at nicholsonews@ucf.edu.