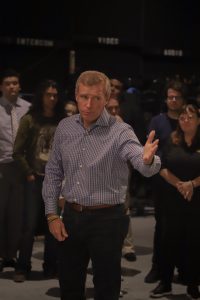 The University of Central Florida often attracts celebrities and industry-based professionals to visit and chat with students. In preparation of the anticipated football match between UCF vs. Cincinnati, Tom Rinaldi, ESPN's representative of College GameDay, paid a visit at the Nicholson School of Communication and Media on Nov. 16. Along with NSCM faculty and ESPN colleagues, Rinaldi talked with journalism and radio-television students, giving them advice for their upcoming careers and experiences.
"This field requires guts, discipline and fearlessness," Rinaldi said. "And you need to learn from the things that don't go right."
Rinaldi has been working for ESPN since 2002 and is a reporter, interviewer and weekly contributor for College GameDay. The ESPN representative has worked in the past for ABC, CNN, NBA, SportsCenter and Sunday NFL. Having so much experience in the communication field, Rinaldi emphasized the importance of teamwork to the NSCM students.
"You are a team," Rinaldi said. "TV is collaborative. You're only as good as the person next to you. Everyone is a valuable link in that chain."
College GameDay is a pre-game show broadcast which has never came to UCF. Being the first time, it highlights the success of UCF's football team in the past and current season. UCF is the 71st school to host College GameDay and Orlando is the 83rd city to host the show during its 25-year tenure.
Rinaldi gave NSCM students a wake-up call.
"You're in a very competitive field," Rinaldi said. "There's always something more to give because your best is not your best. And if you don't give it your all, someone else will."
The ESPN reporter wrapped up his talk to the students with a few words of motivation and assertiveness. Rinaldi highlighted the importance of exploring every position and learning about them and becoming master of not one, but many assets.
"Working in television can be competitive and stressful but also rewarding," Rinaldi said. "You are all in an excellent school. Use the people who are teaching and pouring out to you, use the equipment you have available to you. This [NSCM] is an incredible chance and a phenomenal facility. Use it."