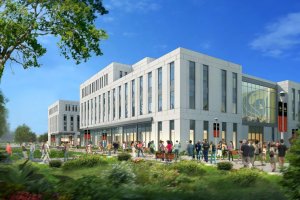 The Nicholson School of Communication and Media is no stranger to excellence. Faculty members are always searching for ways to help prepare students for successful careers. Because of their hard work, several NSCM faculty members have earned external funds to facilitate research and study abroad opportunities.
Below are just some of the highlights.
Joseph Fanfarelli, Games and Interactive Media assistant professor, applied for a grant from the National Science Foundation. His proposal Career Pathways for Creative Sector Jobs led to a two-year planning grant to help bring vocational programs through Orlando's Evans High School to train workers for back-of-house and entertainment jobs in Central Florida. Fanfarelli was granted $260,000 to start the program.
Katie Coronado, broadcast journalism associate professor, and Erica Kight, Ph.D., journalism lecturer, earned two grants from the Nielsen Foundation and Partners of the Americas.
A portion of the $5,000 Nielsen Foundation funding has already helped been put to use recruiting students. In December, a group of 50 students from South Miami High visited the school and got the opportunity to tour the campus. Coronado and Kight plan to recruit more students from schools like Poinciana High School in Kissimmee and Cocoa Beach High School.
Coronado and Kight also received $25,000 from Partners of the Americas – which funded NSCM's first study abroad trip to Cuba in the summer of 2018. Because of the funding, 11 NSCM students were able to produce two shows about the music, art and culture of Cuba.
Kight was excited that the grant opened doors for her students and the Hispanic Media Initiative.
"It was a victory for our students, because the grant paid for a group to travel to Cuba for study abroad," Kight said. "It's really rewarding to be able to provide a once-in-a-lifetime opportunity for them."
Deanna Sellnow, Ph.D. and Tim Sellnow, Ph.D., both as professors of strategic communication, have looked for opportunities to enhance the communication department since joining NSCM in fall 2015.
In 2018, they received a $65,000 grant from Purdue University. In addition to funding graduate students, the grant will also help develop a system to enhance the quality and marketability of organic produce. It will help document the perception of farmers in adopting different technological practices.
"This semester, I had the privilege of seeing a master's student complete a final project and an undergraduate student complete an Honors in the Major thesis using data they helped collect for funded research projects I am leading," Timothy Sellnow said. "I appreciate having the opportunity to help create the next generation of scholars who will be contributing to public safety through funded research."
Matthew Mosher, Games and Interactive Media assistant professor, has always had an interest in connecting digital media with people's responses.
Mosher wanted to develop a training program to help people become better mediators so he applied for a grant from Puffin Foundation West. He won over $2,600 to develop his research.
"Nicholson School faculty consistently go above and beyond for our students and these efforts are further evidence of their commitment to their craft and the mission of our university," said Boyd Lindsley, Ed.D., senior associate director of Finance, HR and Communication. "I am fortunate and privileged to work with such committed colleagues."