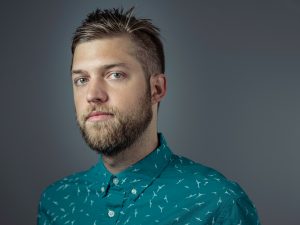 Everyone has experienced frustration while on the phone with a company's customer service line, feeling helpless and getting more irritated by the minute as the problem persists. UCF alumnus Tyler Falbo, BFA '14, touched on just that feeling of exasperation as he turned a real-life event into a hilarious, award-winning film "Postal."
Falbo's assiduous work on the film paid off this year at the 2019 Florida Film Festival, where "Postal" won the Audience Award for Best Narrative Feature.
"The Florida Film Festival was great to us," Falbo said. "I had gone to the festival all throughout college, so to be back with a film of my own was a special feeling."
He originally gained notoriety for a series of YouTube dark comedy shorts, and has gone on to be involved with a number of films.
His advice to UCF film students consists of two vital things: "One, make a bunch of movies. That's the only way you can work that muscle. And two, find your point of view, then look for ideas and stories that only you can tell."
"Postal," written and directed by Falbo, is a dark comedy that reimagines the love-fueled meltdown of Philip Tress, a Florida man whose engagement ring had yet to arrive before his flight to Hawaii to propose the following morning. The film recreates Tress' breakdown as documented by multiple recordings in real life to the shipping company and from media perspectives.
The film did not have a large budget, fancy equipment, or even much time. It was shot in Falbo's parents' house in Jacksonville, FL in December of 2017 as a microbudget film and with a 19-day shooting schedule. Tyler's mother cooked most of the meals while his stepfather handled special effects, and the crew was composed mainly of friends from film school who slept on air mattresses.
"Our DP (Cornelius O'Donighue), Gaffer (Dane Gerwig), 2nd Unit Gaffer (Hayden Greiwe), 1st AC (Olivia Wilson), and VFX (Ben Gill) were all UCF alumni or current students. I also have to give a shoutout to Jon Bowen, UCF Film Program Operations Manager, who not only babied all of us through the film program but helped me throw together a last second DCP file for the Florida Film Festival screening," Falbo commented.
Falbo has since written and directed shorts for a late night FXX series set to release later in 2019. He currently resides in Los Angeles and is represented by Mosaic Media Group.
This article was written by Iulia Popescu.