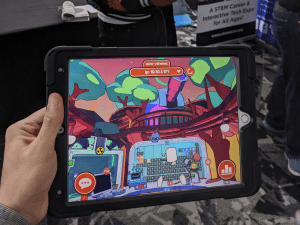 A group that emerged out of the Florida Interactive Entertainment Academy (FIEA) a few years ago have now been awarded their second National Science Foundation (NSF) grant – a million dollars to help develop their first virtual reality (VR) game, Tablecraft.
Tablecraft started out as a VR prototype that alumnus Rafael Brochado submitted to FIEA's Rapid Prototype course.
Brochado enrolled at FIEA in 2017 after quitting his job and moving to the United States with the support of the Fulbright program – a move which he pursued so that he could unlock access to the VR and augmented reality (AR) industry, which was non-existent in his home country of Portugal.
At FIEA, the number one nationally ranked Master of Science in Interactive Entertainment, he was introduced to supportive faculty and top-notch technology. The 16-month master's degree is offered full-time over four semesters and classes are held at the state-of-the-art facility at UCF Downtown, in the heart of downtown Orlando.
A year after creating Tablecraft, Brochado teamed up with another FIEA student, Guillaume Bailey, to establish Not Suspicious – a VR research and development studio aspiring to ship great VR games and carve a niche in the consumer VR space.
Since then, they've been showered with awards from the National Science Foundation, Facebook's Oculus and others.
"Without FIEA's support, Not Suspicious would not exist," said Brochado. "Both FIEA and UCF were very supportive of my goals – they offered me financial support, gave me access to the hardware I needed and gave me the freedom to experiment."
Designed for VR, Tablecraft is a fun and playful environment for first exposure to the physical sciences. Its content design combined with its peer-to-peer online framework means Tablecraft could be one of the first products capable of driving significant VR adoption both inside and outside the classroom.
The project is coming along well – Not Suspicious has recently hired a full-time game designer and they are expecting to hire more VR programmers, an art director and a chief operating officer soon thanks to the financial assistance of the NSF grant. For more information, follow their Discord channel.
"Many students attend FIEA to benefit from the advanced graduate education they receive and the subsequent pipeline into the game industry; a few attend with the desire to start-up something new and make a difference in areas such as education and medicine," said Benjamin Noel, the executive director of FIEA since its inception in 2005. "The Not Suspicious team took advantage of the environment and built their company foundation at the same time. It's courageous and impressive. We look forward to seeing more of their successes."
Later this year, Not Suspicious will also be launching an initiative at www.classroomvr.org. The Classroom VR Open Standards (CVROS) will become a set of open-source guidelines for how to best deploy virtual reality technology in classroom settings. They will use their NSF-funded research that they have done as a basis and are inviting several other leaders to collaborate on this initiative.
As they continue to develop Tablecraft, the team is constantly seeking feedback on their Discord channel and testing it with real players.
For additional information on Not Suspicious, Tablecraft and the makers behind it all, visit their website.
Published September 1, 2021. Written by Iulia Popescu. Pictures provided by Rafael Brochado.
If you have any news, accomplishments or highlights about your work or life, please be sure to share them with us, by emailing us at nicholsonews@ucf.edu.