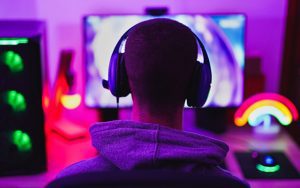 Creating a video game requires a tremendous group effort. Students at the Florida Interactive Entertainment Academy (FIEA) know firsthand the challenges and rewards that can come with it.
FIEA's capstone is the creation of a full game over multiple semesters, where students team up and go through all of the phases of making games in the industry.
Developed using Unreal Engine, a 3D creation tool for immersive experiences, two of FIEA's capstone games were picked as part of the Fall 2021 Unreal Student Showcase.
The international showcase featured projects from Bournemouth University, HAL Tokyo, New3dge, Oxford, the University of Central Florida and more. Students demonstrated how they harness the power of Unreal Engine with scenes of spaceship crashes, angry dragons, sci-fi bouts and nail-biting fights.
"Zenko: A Fox's Tale" was created by capstone team Wolf Packtics, led by Keira Taylor. Zenko is a 3D adventure platformer that takes place in a Japanese-inspired environment. In the game, a whimsical fox moves between realms to capture wandering spirits, discover new abilities and restore an abandoned shrine.
"Flicker of Hope" was developed by Studio Whip, another capstone team, over the course of eight months. Free to play, the game is a suspense thriller where the player is a small candle in the ruins of a dark cathedral. Although the halls are littered with victims of a mysterious plague, the ambitious candle knows it is not the only soul left alive. Players can make use of a flame to illuminate corridors and utilize a trusty douter to hide from what lurks in the shadows.
Studio Whip was led by Zachary Karlins '20, who was a digital media major specializing in experimental animation at UCF before he was welcomed into FIEA. Under his lead, "Flicker of Hope," broke records at FIEA to become FIEA's most downloaded game ever.
"That was really big for us," said Karlins. "We surpassed 100,000 downloads on Steam within a year. That's the most downloads by any FIEA game ever and FIEA's been around for almost 20 years now."
After graduating with his master's, Karlins has since started working at Electronic Arts (EA) and credits FIEA for helping prepare him for the gaming industry.
"FIEA is very special in that they don't require any previous game experience to join FIEA," said Karlins. "Not only do they prepare you exactly for what you need, but the connections that you make with the alumni are extremely tightknit and close. Everything we did was a team effort."
Congratulations to the students that worked so hard to make these games come to life. Their recognition in the Unreal Engine Showcase is well deserved!
Published February 1, 2022. Written by Iulia Popescu.
If you have any news, accomplishments or highlights about your work or life, please be sure to share them with us, by emailing us at nicholsonews@ucf.edu.