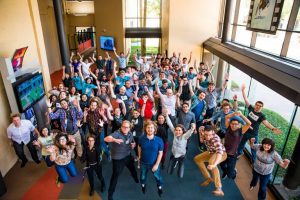 The Florida Interactive Entertainment Academy (FIEA), UCF's graduate game development program, welcomed 66 new students on Aug. 20, 2018. The class includes a record 22 females and is designed to teach student producers, artists and programmers the high-end production processes for video games, simulation and film.
This is the 15th class to start at FIEA, which is ranked the No. 3 graduate game development program in the world by the Princeton Review.
Forty-three of the students are from Florida and 16 are from out-of-state schools like Princeton University, University of Chicago and Rochester Institute of Technology. The class also includes one Fulbright Scholar and 24 students who got their undergraduate degree from UCF.
Fulbright scholar Pamela Figueroa, from Bolivia, is excited to get started. Read Pamela's profile
"I think FIEA will be a huge challenge for me," she says. "And like any adventure, I'll have obstacles to overcome and bosses to defeat. But I love challenges, so I'm ready to begin the adventure."
— UCF —
Contact:
Todd Deery, 407-235-3582, todd.deery@ucf.edu
Other stats from FIEA's 15th class:
65% of students are from Florida
11% of students are international
33% of students are female
Average GPA: 3.4
Average GRE Score: 312